Kitchen is the heart of your home. Just like your heart, it bumps food, love, nutrients to each family members. That's why, regardless of the size, it is important to take care of the kitchen like any other rooms.
If your kitchen is tiny, no worries. Here are the top 5 small kitchen decorating ideas for you.
Save Spaces With Kitchen Racks
For a compact kitchen, space is precious. You don't want to use bulky kitchen furniture or appliances which can make the kitchen look smaller. At the same time, any corner could be used for a purpose.
The rule of thumb for small kitchens is to not waste any space. That's why you need to choose the kitchen furniture carefully. Let's start with kitchen racks.
A kitchen rack allows you to store kitchen utensils, plates, pots and even some small kitchen appliances such as microwaves or ovens. Those who own a big kitchen often use kitchen racks for decorative purpose, to place plants or flower vases to vitalize the cooking space.
However, if your kitchen space doesn't allow frivolity, a kitchen rack could help you save plenty of space.
Kitchen racks are available in different size and price. Depending on the size of your kitchen, you can choose a suitable rack. For those who want additional kitchen prep space during cooking, a rack trolley isn't a bad idea.
Most trollies are small and don't offer a pot rack; however, you can tuck it away after use. A small kitchen trolley offers storage for pots, kitchen utensils. You can even use the kitchen trolley to serve food and drink when you have guests over.
Apart from size, the racks' design is essential too. A small kitchen is best when it looks simple. A small stainless-steel rack is suitable for small, white-wall kitchen, whereas a wooden rack is appropriate for vintage-style one.
My top-picked kitchen racks
Whitmor Supreme Baker's Rack with Food Safe Removable Wood Cutting Board: Whitmor is a trusted manufacturer for affordable and versatile kitchen racks. Their Supreme Baker's Rack features a removable chopping board, adding prep space. A must-have element in a small kitchen!

VASAGLE Industrial Kitchen Baker's Rack offers a vintage wooden design, which is perfect for a compact kitchen. It comes with a sturdy iron frame, flexibility, and wonderful total load capacity. The item certainly can breathe fresh air into your kitchen.

Mr. IRONSTONE Kitchen Microwave Cart 3-Tier Kitchen Utility Cart is another vintage-style option for you. Featuring a set of 4 flexible wheels, you can relocate your rack with ease. It is small, fit perfectly to a small kitchen.
The Sitting Area
No matter how small the kitchen is, you can still find a way to have a cozy sitting area. But you need to know how to implement it.
What I recommend is to make a minimal sitting area. This has a lot to do with furniture like dining tables and chairs. Some people prefer to buy a set of dining table because it tends to be cheaper than buying tables and chairs separately.
You can buy a dining set for 2 people as cheap as $80. This is a great deal for a small family with a compact kitchen. However, if there is any chance your family will enlarge in the future, settling down for a dining set doesn't seem wise. Especially when the set can easily consume kitchen space.
What to do?
You will find buying tables and chair separately is a simple option. First of all, you can choose the combination, color, size and design as you wish.
Coavas Kitchen, for example, offers foldable tables, which is perfect for a small-sized kitchen. You can fold it up after use, leaving the kitchen some space to work later on. The same goes for chairs.
What you can do is to pick chairs and table with the same color and similar design, so that they look harmonious.
If you want a minimal and pretty set of dining table and chairs, pay attention to the materials. There are many options from metal, plastic to wood. A quick tip here is to look around the kitchen and imagine the vibe you want it to have.
If you want a cozy, sleek kitchen, wooden chairs with cushion are perfect. A modern bright kitchen goes well with metal colorful chairs. Choose it carefully.
Some people even go for breakfast bars to save space. Breakfast bars are smaller than a dining table, often suitable for morning coffee and quick meals. You need to add a few chairs around the serving area to make it a sitting place.
My top-picked set of furniture:
Linon Tavern Collection 3-Piece Table Set includes a rectangular table and two chairs, suitable for a family of two. It features modern hardwood construction with espresso finish. Padded stools can be stored under the table, saving space for the kitchen.

FDW Dining Kitchen Table Dining Set is another choice for a small family. The table is made of high-quality MDF and heavy steel. The dining set provides enough space for cozy meals without consuming prep area in a small kitchen. Plus, the price is very affordable for such quality.

Giantex 5-Piece Folding Table and Chairs Set is an option for the small-kitchen-big-family problem. The set comes with a square table and 4 foldable multi-purpose chairs. It is a great space-saving helper in the kitchen.
My recommendation for tables and chairs:
Kitchen Dining Table Round Coffee Table is a high-quality choice since it comes with improved paint layer to cope with daily-use scratches. The table is cheap, small, and versatile, which is ideal for apartment kitchens.

Coavas Kitchen Dining Table offers a taste of modern minimal design in your kitchen. It comes with a large waterproof, shock-proof surface. The table can accommodate 4 chairs at a time.

GreenForest Dining Table Rectangular Top is one of my favorite table because of the decent construction and modern style. The table is compact, suitable for small space like a kitchen, balcony or lounge.

Poly and Bark EM-286-GRY-X4 Dining Chair with Natural Legs includes a pack of chairs. I fell in love with the simple, sleek design of this set. They are gorgeous!

Flash Furniture Elon Series Black Plastic Chair with Wood Base is a safe choice if you don't want to ruin the interior vibe in the kitchen. It goes well with almost any type of tables.
Kitchen Island
A kitchen island is a great idea for display and functionality. For small kitchens, it is the ultimate choice to save space, add working counter and storage.
The kitchen island offers an accessible space underneath for all sorts of things, from pots, cooking ingredients, and even kitchen recycling bins. You may not find a lot of drawers or cabinets in a small island, but it certainly provides enough space for some kitchen items.
What I love about a kitchen island is its versatility. It is a perfect eating station for kids. Small kitchen islands come with suitable size for kids to pitch in and help with cooking. Sometimes it could be a place where they finish their homework.
To save space for your tiny kitchen, you can use the island as a place for cooking, preparing meals and sitting for dinner or lunch. Acting as a serving breakfast bar in the morning, you only need to add chairs to complete the puzzle.
I highly recommend having a movable kitchen island. It is extra handy when you need a big space to prepare. After cooking, roll back the kitchen island to its initial place.
When it comes to decorative purpose, you should pay attention to the material options. The price range varies depending on materials as well. Plastic laminate or man-made finishes are among the cheapest option. The mid-level range includes stained concrete, butcher block or granite.
A kitchen island can indeed be just for show, but you will gain much more from additional seating, extra storage, and other versatile uses.
Some of my suggestions for kitchen islands.
Casual Home Kitchen Island with Solid American Hardwood Top is a simple solution for small kitchens. The item is pretty simple, with a small drawer, two shelves, and a prep top. If you don't ask for much, this is a way to go.

Hodedah Kitchen Island with Spice Rack, Towel Rack & Drawer offers a convenient and accessible method to decorate your kitchen and provide it with extra prep space and storage. The cabinet is big enough for small appliances, and some pots. Wheels are available for extra mobility.

Liberty Black Kitchen Cart with Stainless Steel Top attracts me because of its sleek design. Constructed with solid hardwood and black finish, the island features a big cabinet, 3 storage drawer, a spice, and towel rack. It is compact and affordable too.

Phoenix Home KC190215 Granite Top Kitchen Island is a space-saver for a tiny kitchen. The product dimension is 22. 50" L x 15. 60" W x 33. 80" H, small enough to not require any extra space from your kitchen. It comes with a wine rack and 4 flexible wheels as well.

Paneled Door Kitchen Cart with Natural Finish by Home Styles is the upgraded version of Phoenix Home. Same dimension but different design. It is made of sustainable hardwood, which can stand through time test. The built-in wheels allow you to move it around when you need extra space.
Kitchen Cabinet
Are you going to build your dream kitchen? Consider a kitchen cabinet as an added decorative element.
There are many options for a small kitchen. Stock cabinets offer a wide range of styles and price. For a compact kitchen, a single-drawer cabinet is enough to fit in a tight corner. If you need to save space, a tall cabinet would be better than a small one.
Make sure that you have looked around the kitchen and get the idea of how you should decorate it. The cabinet should blend well with other kitchen furniture and with the overall architecture of your home. Natural wood finishes are the popular choice since it adds some vintage vibe into the kitchen.
When it comes to a suitable kitchen cabinet, there are two factors you need to consider: budget and quality. A small cabinet isn't too expensive, but it can take up a big amount of the total cost for the kitchen upgrading project.
Check whether you are financially confident to spend a few hundred for a cabinet.
What's more, take a good look at the quality of the item. Certainly, you don't want the cabinet to just be a useless, cheap-quality décor in the kitchen. Please double-check the frames, door, drawer fronts and every corner.
If you value the decorating element of the cabinet, it is a must to have your item customized. Semi-custom and custom products offer a wide range of style that could be appropriate to your taste than stock cabinets.
My recommendations are
Winsome Wood Alps Tall Cabinet with Glass Door and Drawer: this single cabinet is perfect to squeeze in a tight corner. It comes in a sturdy construction and durable finish. It is a beautiful touch in your kitchen you shouldn't miss.

Winsome Wood Alps Tall Cabinet with Glass Door and Drawer is a slightly bigger option for those who aren't too conscious about space. The item can be hooked into the wall so it adds stability. The three upper shelves offer plenty of space for decorating items and kitchen stuff.

American Furniture Classics OS Home One Door Kitchen Storage Pantry captures my attention by the durable white painted cover. It is a small-footprint cabinet so you can always find space to let it stay.
Other Tips To Brighten Up Your Small Kitchens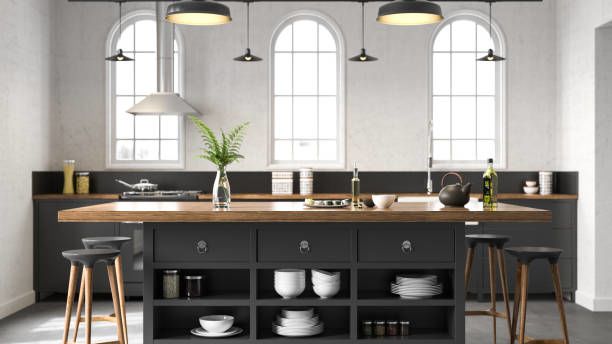 There are a few things about small kitchens that you need to keep in mind. Rearranging a kitchen doesn't always have to be buying more stuff, but instead catching the harmonious vibe and following it.
While racks, cabinets, kitchen islands and a set of furniture are necessary items for any kitchens, you can find ways to make your small kitchen a sanctuary – the heart of your home by some simple tricks.
Do you know that color has a huge effect on human's perception? A dark room always makes you feel small and compact, whether a bright room does the opposite. One thing you can do with your kitchen is to brighten it up by changing the color of the walls.
Top it up with a fresh coat of light shade. For those who love vintage-style, wooden furniture, it is important to use this trick. Otherwise, you will feel suffocated every time you enter the kitchen.
You can also consider lighting effect too. Under or next to wooden tables or cabinets, using lighting could help the kitchen look bigger and brighter.
Here are my ideas:
Use energy-saving bulbs instead of incandescent ones

LED strip lights could be helpful when it comes to lightening up the counter space.

Use a mirror to reflect light in the kitchen. Your cooking space will look bigger and nicer.
The Bottom Line
Having a small kitchen isn't a curse if you know how to make use of the size. Choosing suitable furniture, picking simple décor items, you will see the transformation of your compact kitchen. Have fun decorating your sanctuary.