Smoothie is a good way to help one consume more fruits – which are considered good for human health. It's also perfect for people to dislike eating fruits or drinking milk as well.
As summer is coming close, in this article, I'll guide you on how to make a smoothie with frozen fruit and milk. Spoiler: It's very easy to follow!

Why Frozen Fruits For A Smoothie?
No doubt, freezing fruits is a wonderful solution to prevent them from rotting or overripe, which ends up you throwing them away. And you can keep them freezing whenever wanting to make smoothies.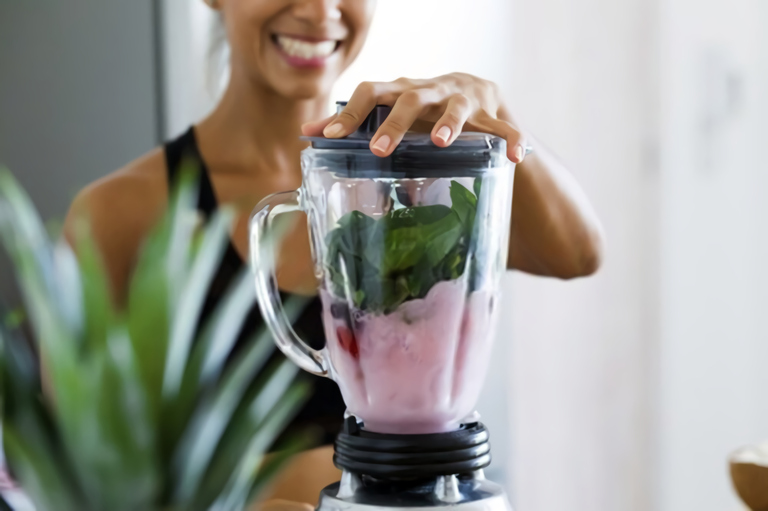 It's also the best choice for diet-routine people. No need to add ice nor added sugar to make it sweet. Nothing can be more enjoyable than the natural sweetness from fruits.
Not to say that frozen fruits give a thicker texture which is very addictive to enjoy. Everyone, especially the kids, will unstoppably drink it.
How To Make A Smoothie With Frozen Fruit And Milk?
To make a tasty and healthy frozen smoothie, milk and freeze fruits are the most important things to notice.
How To Prepare/Choose The Milk?
Start off with milk. Many people love the light taste and lower calories which is half of the cow milk. For lactose-allergy people or those who are on a diet, use almond milk instead. This milk is encouraged because it contains no cholesterol and lactose.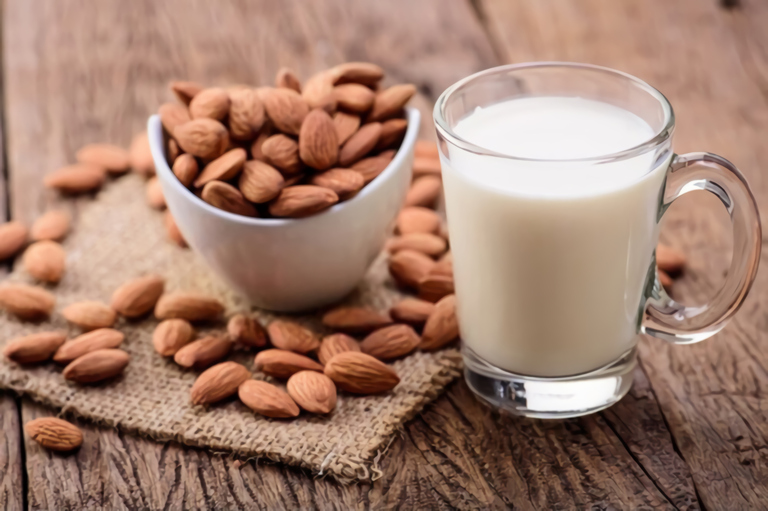 In terms of quantity, 1 cup of milk for 1 cup of fruits is a good formula.
How To Freeze Fruits For Smoothies?
For the best smoothie, only choose fruits that are perfectly ripe as under-ripe fruits are not tasty while overripe ones have fewer nutrients.
After buying, clean, and/or peel the fruit's skins.
Remove all bruises and gashes if there is any. Cut the fruits into bite-sized pieces so it could be blended easier.
Use a cloth or paper to dry or remove all moisture from fruits. Place fruits into a tray that is topped with a wax paper. Wrap a plastic cling layer around the fruit tray and put it in the freezer overnight.
When the fruit is frozen, take them out of the tray and put all back to a freezer bag for storage.
My Favorite Recipes
Blueberry Smoothie with Milk Recipe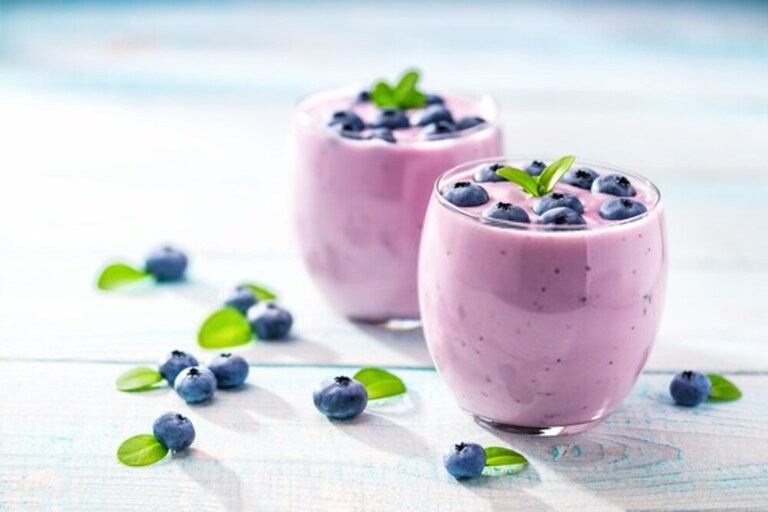 Blueberry and milk smoothie is a healthy, delicious drink that no one can resist. The ingredients are simple, easy to prepare, and make.
Pour 2 tbsp. of honey, 1 tbsp. of vanilla extract, and 1 cup of frozen blueberry in the blender. Pour 1 cup of fresh milk or low-fat milk to the blender depending on your taste.
Blend them all together till the mixture turns smooth and soft.
Serve to a glass and enjoy it.
Mix Frozen Smoothie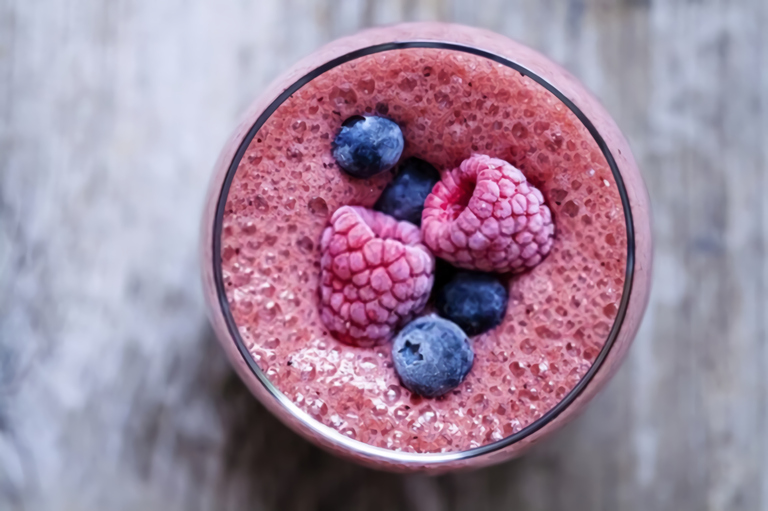 If you want more nutrients with a flavorful smoothie from different fruits, try to mix frozen smoothies.
First, combine 2 cups of frozen blueberries, cherries, raspberries, and mango. Put the frozen mixed fruits, 1 ½ cup of apple juice, and ¾ cup of vanilla Greek yogurt into the blender.
Turn on the blender and blend till the mixture is smooth with a soft texture. Pour it in a glass and top with a mint sprig or your favorite fruits.
Cherry Smoothie Recipe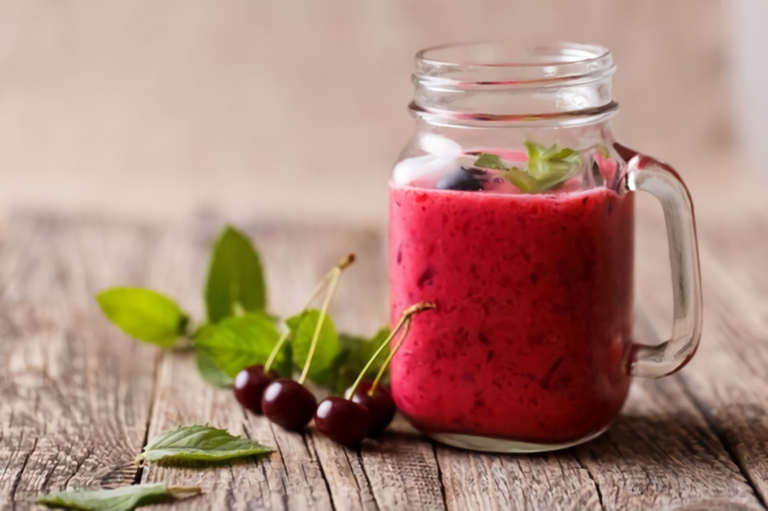 Cherry smoothie with the signature light sour flavor is a great choice to beat the heat and refresh your body. This fruit also contains lots of nutrients good for your health.
First, peel and slice one banana.
Put 1 cup of milk with banana pieces into the blender till the texture is thick.
Combine ½ cup of low-fat yogurt, 2 cups of frozen cherries, ½ cup of crushed ice, and 1 teaspoon of sugar. Blend them all in 30-40 seconds at the high mode.
Serve the smoothie in a glass with a straw. You can add more cherries to eat with if you like.
Grape Smoothie Recipe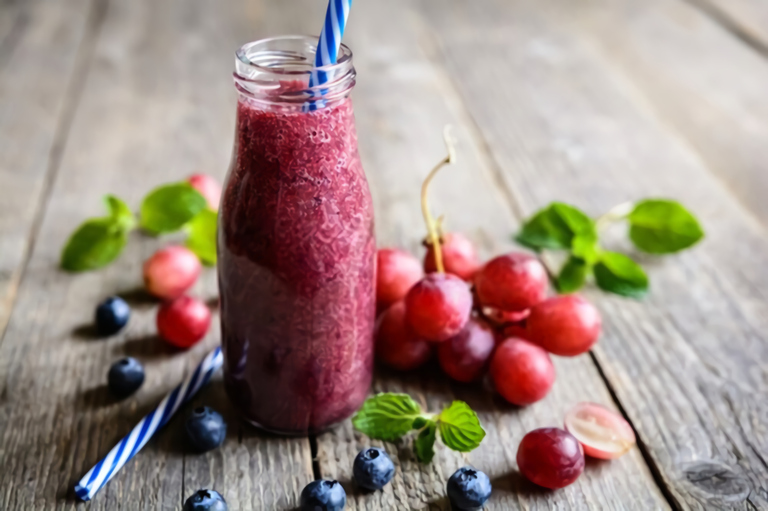 If you can't drink grape wine, you may want to enjoy a glass of grape smoothie instead. Grape is minerals and vitamins rich not only good for your body but also take you to heaven by its taste.
This smoothie is an ideal 5-minute making a drink to boost your energy when needed.
Prepare 1 cup of seedless grapes (Black or red is approved) and 3 frozen strawberries.
Clean them all in water and remove stems if any. Pour 1/3 cup of milk into the blender then add the mixture of grapes, strawberries, and ¼ cup of plain yogurt. You can even add bananas if you prefer a thicker smoothie.
Blend all ingredients until it is frothy and smooth. Serve in a glass and enjoy with your friends or family.
Raspberry Banana Smoothie Recipe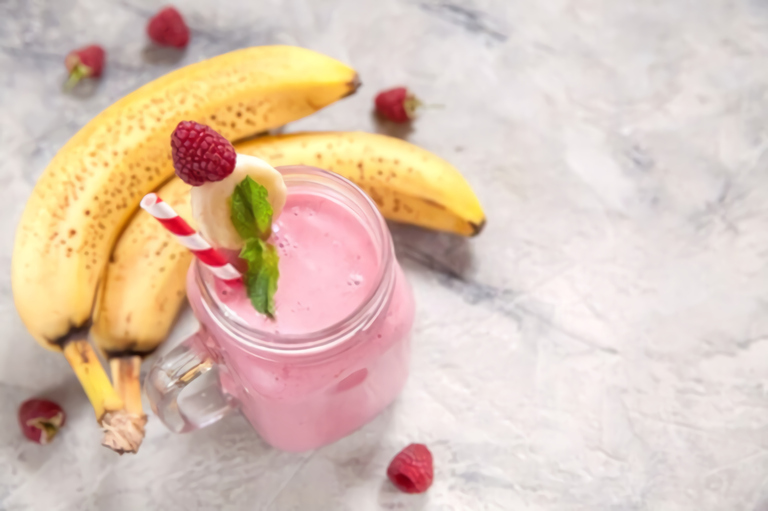 Raspberry Banana Smoothie is your perfect choice for a fast yet nutrient-included breakfast or a prep meal before the gym. These two fruits are rich in kali, vitamin C, and dietary fibers that meet 50 percent of the body's daily needs.
Besides this irresistible smoothie is a sweet treat for both adults and children.
Combine ½ cup of frozen raspberries and ½ cup of frozen bananas (Sliced) into the blender. Add up ¾ cup of any milk you like, such as soy milk or almond milk.
Add ¼ cup of plain or vanilla yogurt with a teaspoon of sugar. Blend till the texture frothy. You can top the glass with sliced fruits.
Conclusion
Smoothie is always a delicious, fresh drink to refresh our bodies as well as giving nutrients for your health.
Using frozen fruits can thicken the texture, reduce sugar so the flavor is more natural, tastier, and better to enjoy. I hope these simple and practical recipes will help you make more smoothies at home.