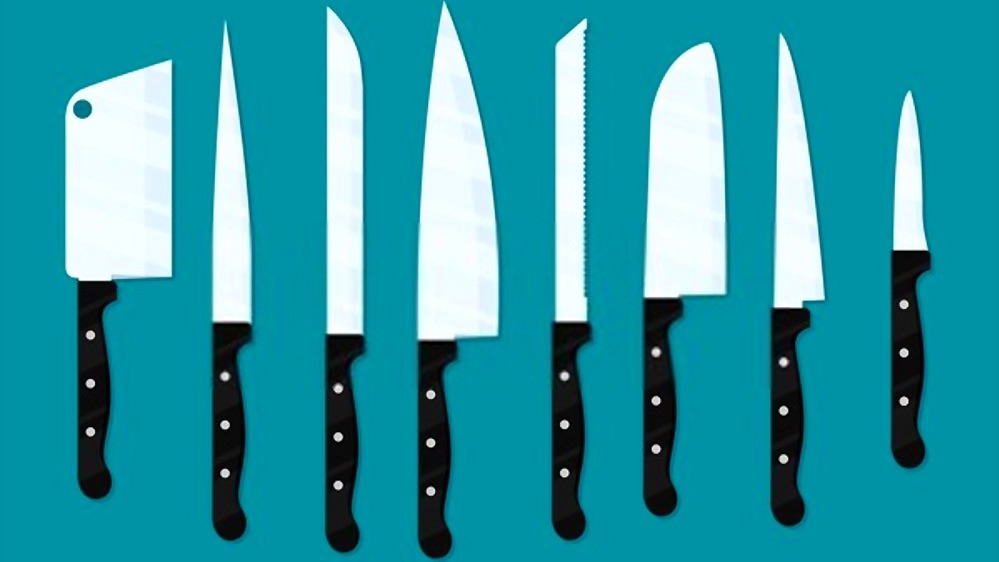 Kitchen knives come in 10+ different types.
Is it complicated? Maybe.
Do I have to bring them all home? Not necessary.
But getting to know the use of each kitchen knife type is essential as it helps you choose a custom set to fit your cooking needs the most, hence, making every cut much easier and faster. This also saves your headspace from unnecessary envisioning and calculating.
With me, today, we'll start learning about different types of knives and their uses. Let's dive right in!
The Big Four
Despite a wide range of knife types, they are generally divided into 4 groups:
The big four: Include 4 must-have knives that at least should be in any kitchen. They help to finish almost cooking tasks.
Small knives: With a narrower or shorter blade, they help you handle fishing works and details
Large knives: They feature either a larger or a longer blade to handle the larger-sized or bigger quantity of food
Specialty knives: Each knife is specifically designed for one and sole cooking task
In terms of the big four groups, it includes a Santoku knife, serrated utility knife, paring knife, and chef's knife.
Chef's Knife

This is the most crucial item in any kitchen knife set as it can be used for nearly every cooking task, from slicing steaks, dicing tomatoes, chopping squashes to cutting tofu.
Compared to an ordinary table knife, it's superior in terms of quick chopping with precision to save much more time. In fact, the chef's knives are highly recommended by many chefs.
It is also called a cook's knife and you can find it in any commercial kitchen.
A chef's knife basically features a broad, triangle blade between 6 and 14 inches long and 1.5 inches wide that tapers upward to a point. The larger the knife, the easier and faster the slicing. However, with small hands, it'd better choose a shorter model for easier controlling.
While most chef's knives re unserrated, several brands have begun to produce serrated designs. Ah, take note that it can be stamped or forged.
Santoku Knife

"Santoku" is a Japanese word, meaning "three virtues" which are mincing, dicing, and slicing.
People use this as an all-rounder knife due to its versatility and that's also the reason why I include it here.
Two distinctive characteristics of Santoku knives are a hollow edge to let it cut through sticky materials or dense meat with less tearing and more efficiency and precision; the other highlight is its flat blade to avoid rocking on the cutting board.
In general, this is no different than a Japanese version of the Western-styled chef's knife but way thinner and shorter.
So it would handle better those cooking tasks preferred a lighter, smaller blade with tender hands, such as skinny slices of veggies. In turn, if you want to mince herbs, Santoku knives will be a lesser choice.
The length of this knife is quite varied, usually within 6 to 7 inches.
Serrated Utility Knife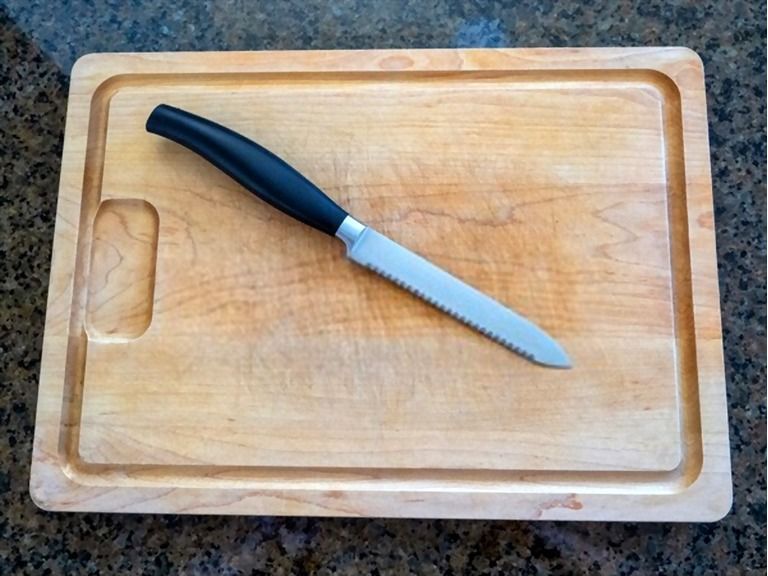 Most of the time, the serrated utility knife is treated as a mini chef's knife to handle small slicing jobs, such as sandwich fixings, cutting bagels, fruits, and veggies from hard to soft without tearing them. it usually features a scalloped edge to cut more flexibly.
Utility knives commonly feature a blade within 4 to 7 inches long – shorter and sharper than bread knives in comparison - and can be serrated or straight.
It's also called a sandwich knife or tomato knife.
Paring Knife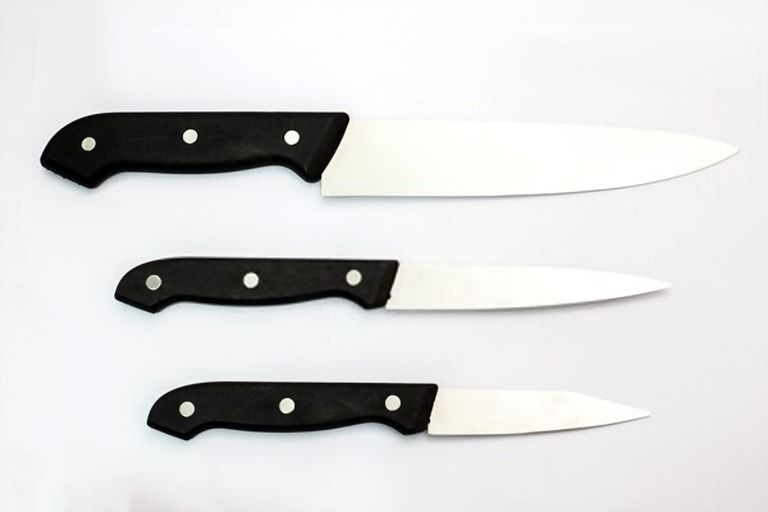 Paring knives is short in size, usually 3 to 4 inches, and a very pointy tip that looks like a plainer, smaller version of chef's knives.
Featuring a simple yet sharp blade makes it ideal for intricate jobs, like creating garnishes for food and drinks, trimming excess fat, deveining shrimp, and peeling fruits or veggies.
Some paring knives also feature scalloped and serrated edges with multiple tips but in general, they're divided into three styles – bird's beak, sheep's foot, and spear point, named after the point's shape.
Bird's beak: This style usually features a tourney knife or curbed paring knife with the blade curving downward to mimic a bird's beak shape. It's specifically designed for creating garnishes or peeling rounded fruits.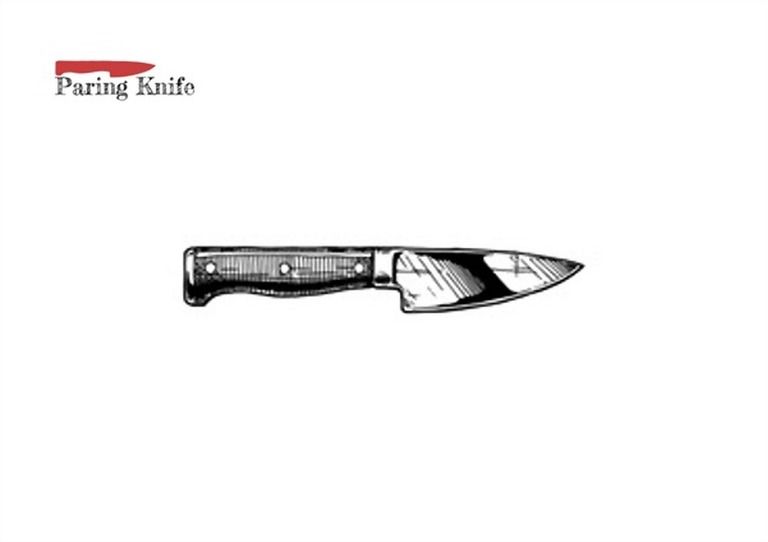 Sheep's foot: By featuring a straight edge and a rounded tip, sheep's foot paring knives are perfect for julienning and chopping veggies or fruits.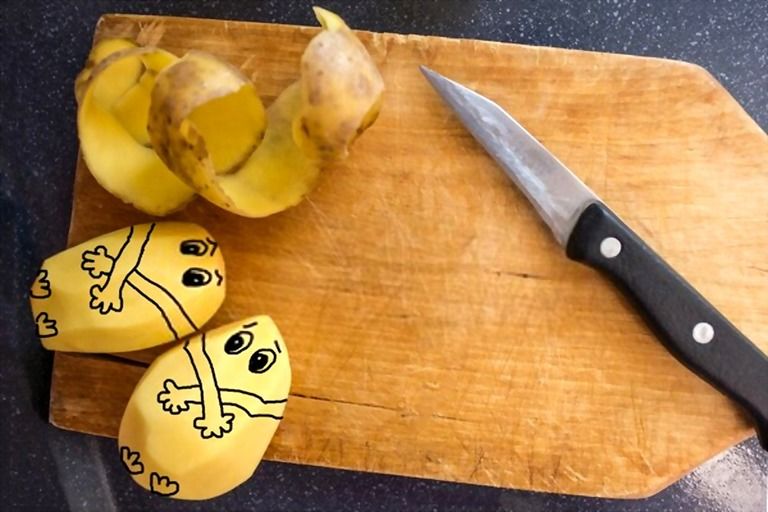 Spearpoint: This style is shaped like a spear featuring a curved top and bottom blade and specifically used for small cooking tasks that require high precision.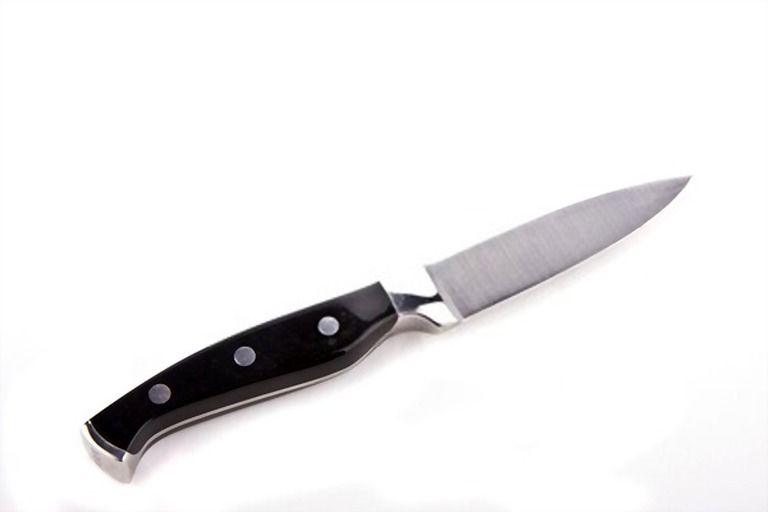 Small Knives
Trimming Knife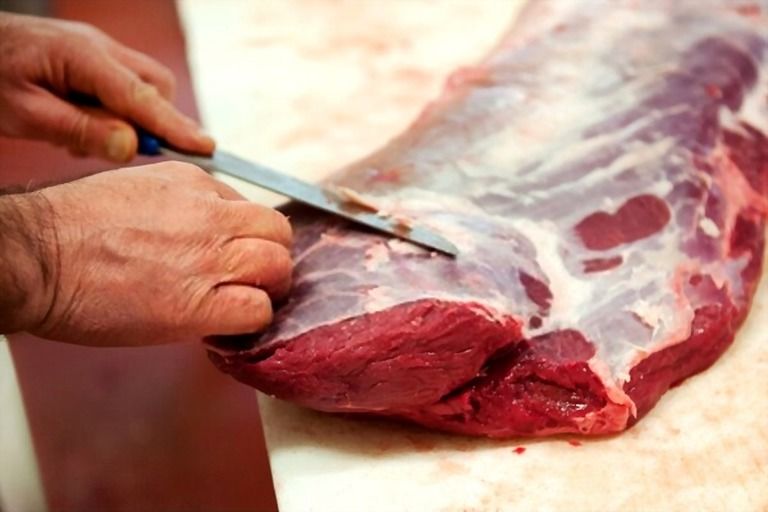 By featuring small size of around 2 to 3 inches long, trimming knives look no different than a miniature boning knife to perform excellently a gamut of small tasks.
For example, removing meat from tiny areas or from bones that a large boning knife can't access. It also helps in garnishing as well, like making radish roses.
Peeling knife
It comes in an impressive shape of a curved short blade downward but not as exaggerated as a hook.
As its name defines, this type of small kitchen knife is used for removing skins of fruits or veggies in addition to blemishing or making a specific cut with root vegetables, called tourne.
That's also the reason why the peeling knife is also known as a tourne knife.
Mincing Knife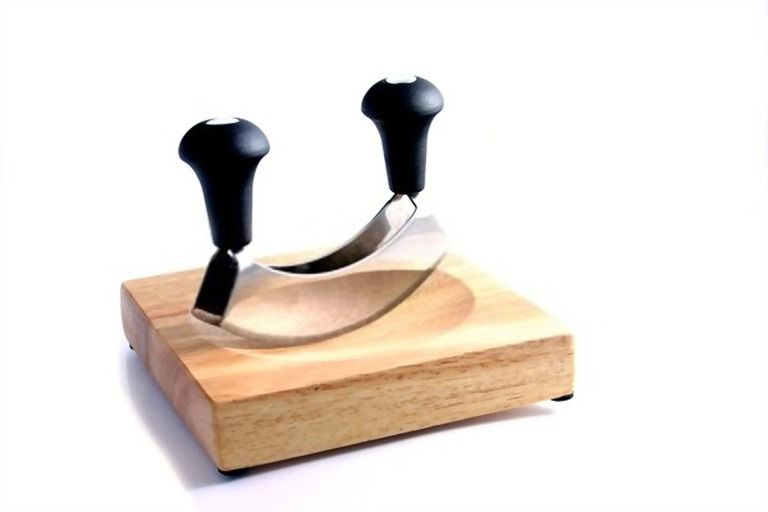 If you know the story of Edgar Allan Poe, named "The Pit and the Pendulum", mincing knives are like a miniature version of the blade in it.
By moving the blade in a rocking motion, it's specifically utilized for cutting herbs or veggies.
Fluting Knife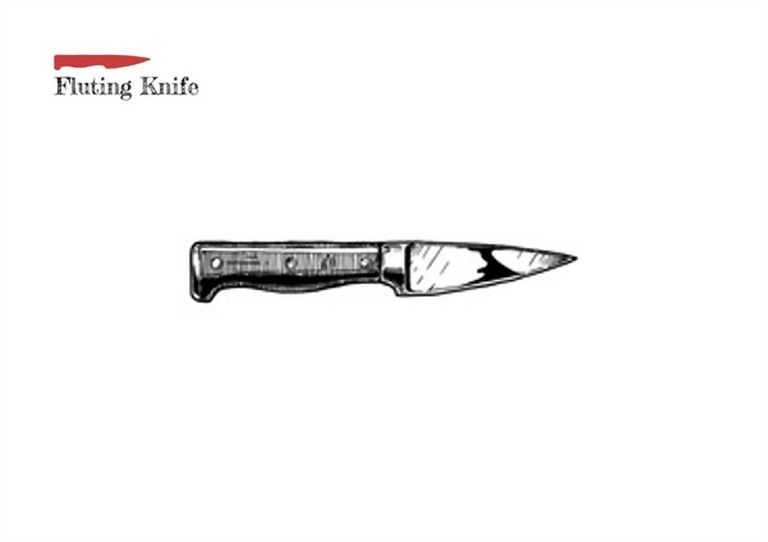 When looking into the cutlery knife world, chances are that you'll see a straight, short blade featuring a 2- to 4-inch long blade. It is the fluting knife, used for creating decorations or delicate peeling.
Big Knives
Cleaver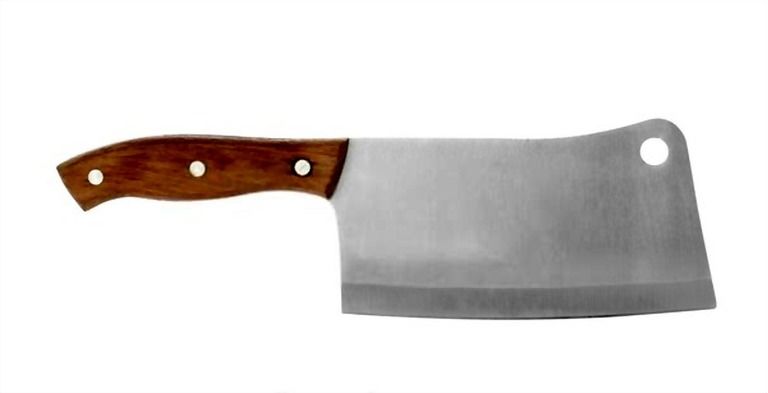 This horror-movie favorite is commonly the heaviest and bulkiest knife in the kitchen, featuring a broad, rectangular-shaped blade – usually 13 x 7.5 inches - with a thick spine and sharp edge.
Maybe for that reason, it's also called "the Hulk of knives".
It is one of the most popular types of kitchen knives which you can easily find in most restaurants, especially when they prepare meat or many home kitchen areas.
Cleaver knives are also known as one of the strongest in cutlery world that allows for cleaving or splitting bone and meat in a chopping motion. Besides, it's workable in crushing garlic, pulverizing meat (either cooked or raw), and chopping thick and hard materials - like pumpkin or squash.
Carving Knife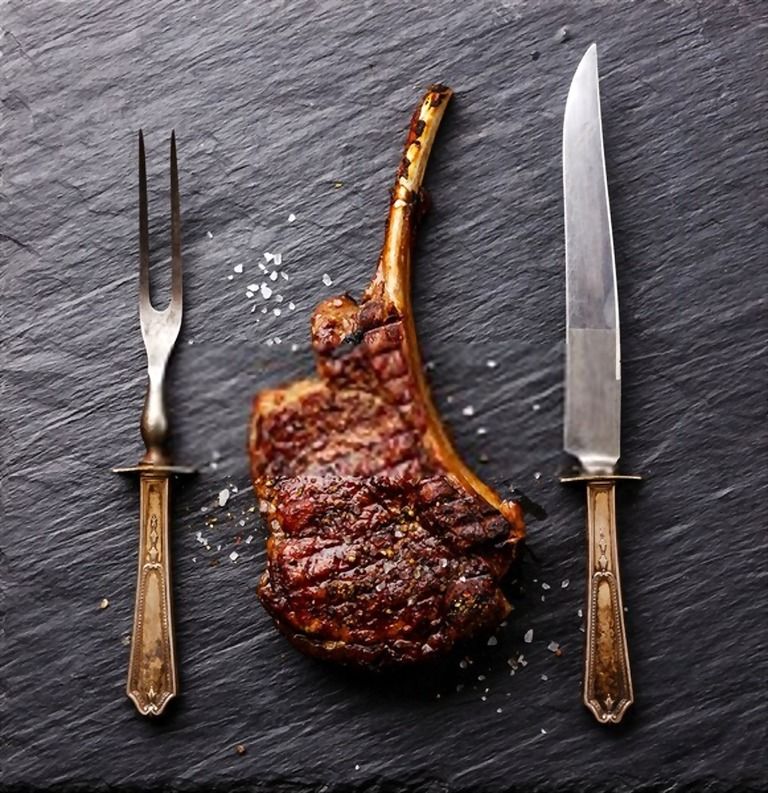 Carving knives are basically a longer and thinner version of chef's knives, sizing within 8 to 15 inches long.
It highlights a very long and sharp edge for thinner and more precise slices through meat, especially a roasted chicken, smoked ham, or deep-fried turkey as well as many other dense materials.
Bread Knife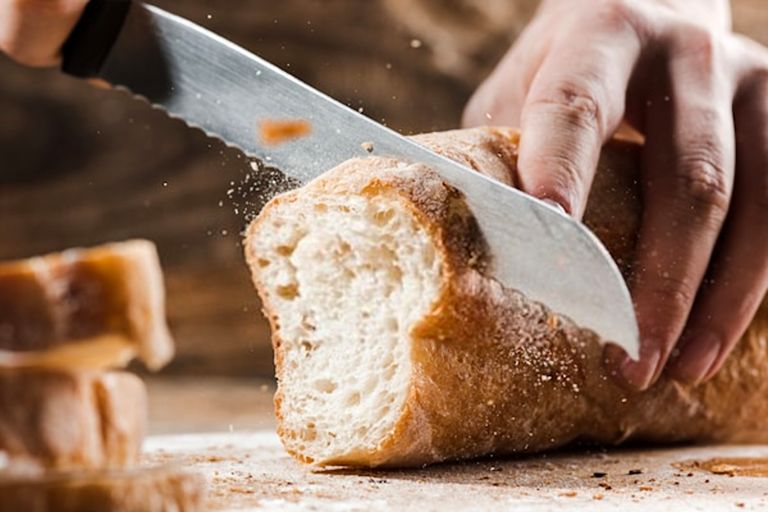 A bread knife looks quite similar to serrated utility knives with grooves to cleanly saw through the bread without squishing or pushing it down, however, this type comes in a longer, more exaggerated blade shape with an offset handle to save your knuckles from knocking the crispy crusts or cutting board.
As specifically designed to slice through large-sized bread, bread knives commonly feature 7 to 10 inches long with big teeth and a narrower blade.
It's not that sharp as the utility knives even though it can cut not only cakes and bread but also seafood, poultry, and meat.
Specialty Knives
Speaking of specialty knives, there are tons of different styles, however, I'm going to list out only the most popular ones here:
Grapefruit Knife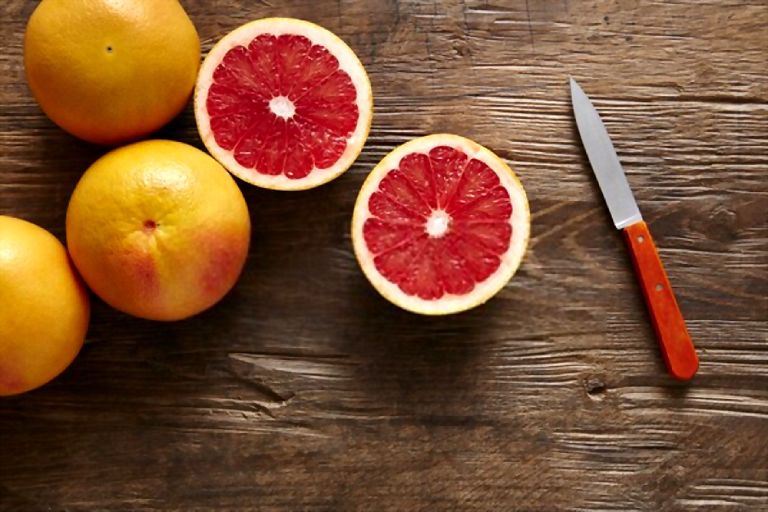 This type is not as sharp as other knives because it's designed just for separating the fruit of grapefruits from its peel and membrane. It looks like an artist palette knife with a long, flat blade and serrated edge.
There might be some other versions of this knife, such as featuring a double blade – one for separating the peel and the other – on the other side of the handle – for its pith.
Decorating Knife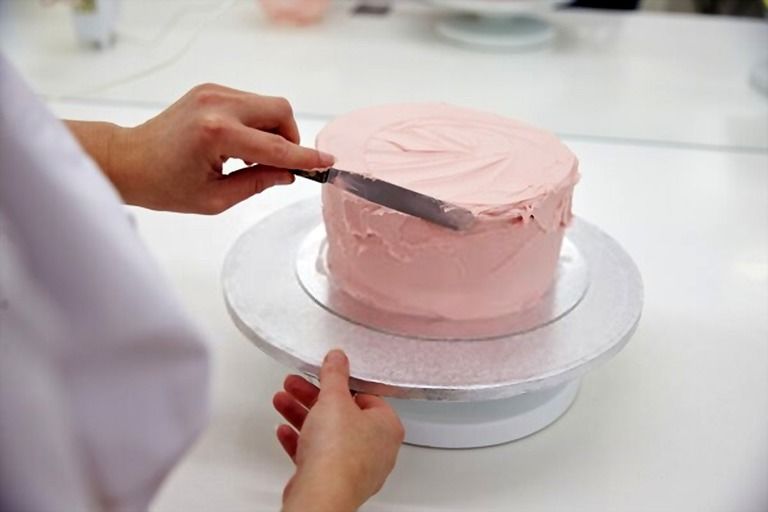 As specifically designed for making elaborate cuts, decorating knives feature a very simple zigzag blade shape.
Cheese Knife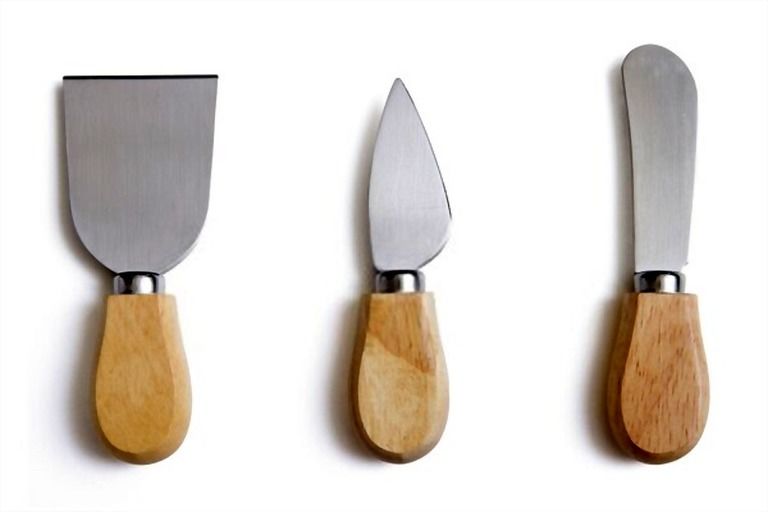 Cheeses are divided into two types and cheese knives are equivalently divided into two styles. For the hard ones, it features a sharper blade to cut finely through the block without breaking it while for soft cheeses, the knife will feature some extra perforated holes to avoid the slice from sticking to the metal.
Steak Knife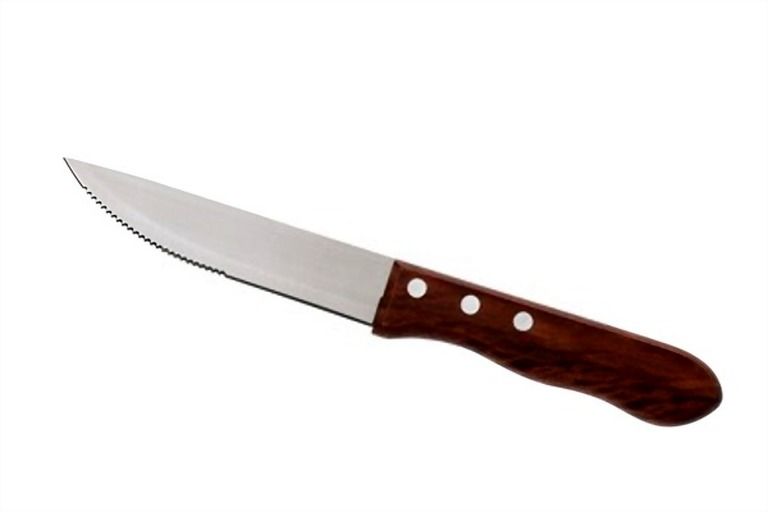 There are many versions of steak knives, including the serrated and non-serrated edges.
Either style, it is designed to not only cut cooked steak or fish flesh but also veggies or spreading butter. Sometimes, steak knives are also used as a table knife.
Nakiri Bocho Knife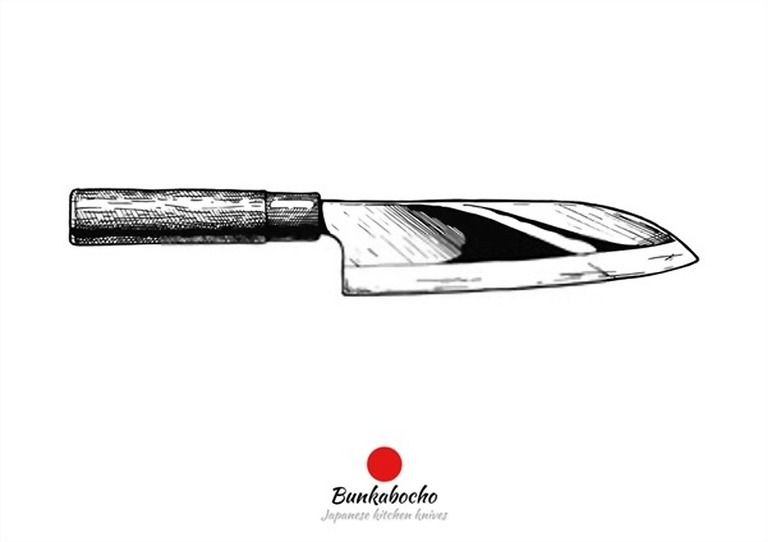 This is a Japanese-styled knife designed solely for thinly slicing out of tomatoes, bitter gourd, and cucumber or cutting through long veggies, like carrots and eggplants.
It features a straight, wide, and thin blade with squared-off tips.
Boning Knife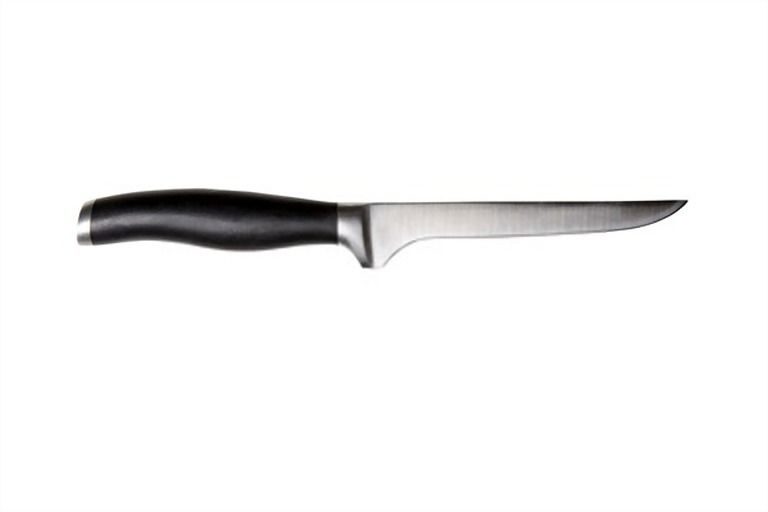 This large-sized kitchen knife is more versatile than its name defines, namely, it can be used for removing meat from the bone, cutting up meat, and making fillet fish.
For vegetarians, it's sometimes used as a trimming knife or peeling knife for fruits and veggies.
Depending on specific functions that boning knives feature a specific size but generally within 3 to 8 inches long. It can be stiff or semi-Flexi to Flexi, however, the stiff blades of boning knives are the most favorite in-home cooking based on its ease of use and precision.
Fillet Knife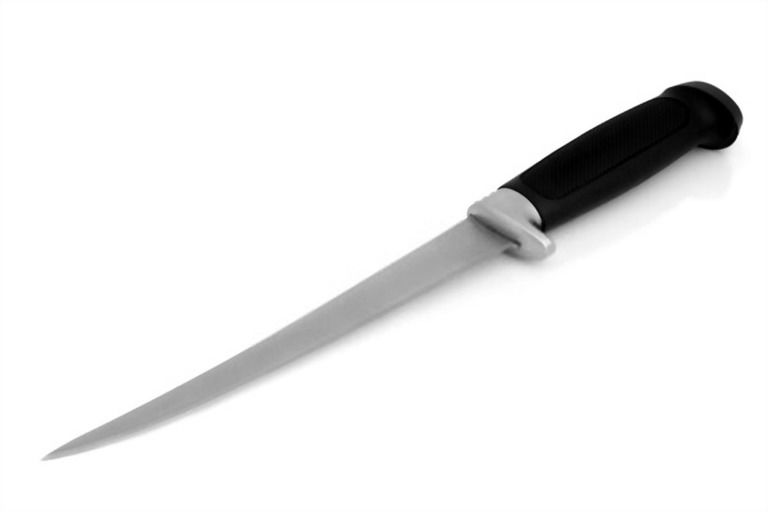 Many people mislead this type of kitchen knives with the boning knife, however, they are different in real life.
Fillet knives are made to cut thin fish slices while a boning knife is for removing meat from the bone. In comparison, fillet knives feature a longer, thinner and more flexible blade than the boning type.
Deba Knife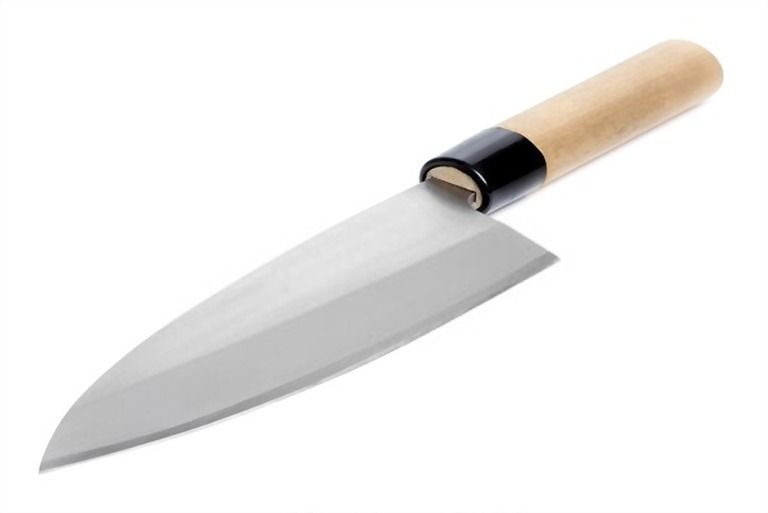 Deba knives are commonly seen in many Asian-styled operations or Japanese sushi restaurants and used as a medium – or light-duty cleaver to do various tasks.
For example, cubing meat, chopping veggies, or preparing cuts of fish.
Cimeter Knife
Or also called scimitar knives.
This is a plain blade version of butcher knives with a curved, long blade. It's basically used for breaking down a large cut of beef, trimming fat off ribs, or cutting or preparing the meat.
Oyster Knife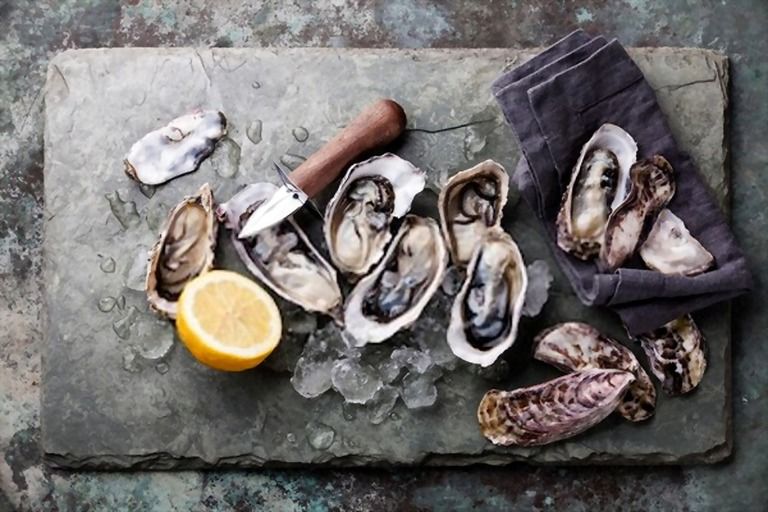 This is a common kitchen knife found in most seafood restaurants or diners that serve fresh shellfish.
There is a wide range of oyster knife styles for different preparations and sizes of shellfish. But commonly, it is designed to open fresh oyster shells then separate the meat from them.
Flank And Shoulder Knives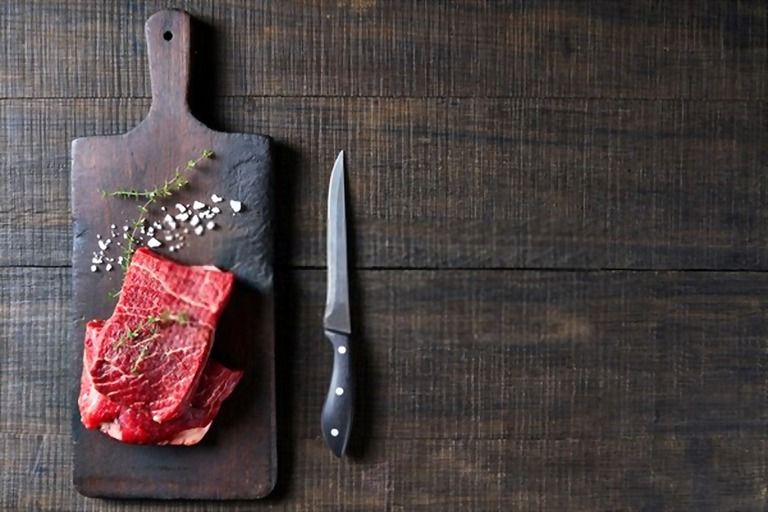 Flank and Shoulder Knives look quite similar to a boning knife with a stiff, straight blade but a bit longer to cut flank steaks more finely. It's also ideal for jointing, trimming, and boning with higher precision.
Conclusion
When it comes to choosing a kitchen knife set, you should not copy what other people usually purchase. Instead, consider carefully these three factors before heading out into the market:
The perfection you want your food to be
Amount of time you're willing to spend on cooking
Y our level of cooking
If you're just a beginner, stick with the Big Four options that I've listed above or chosen the most versatile, multi-functional knives to help you handle more cooking tasks. Sooner, when you love cooking more and level up your experience, it's not too late to add some specialty knives to your arsenal.
Happy cooking and good luck!