Pots and pans are two cooking utensils prone to take the most storage space if organized ineffectively. For narrow kitchens, this is an even more bothersome issue.
But with just some small changes in arrangement, you'll find these utensils are not only neat but also easy to access. Below are some creative solutions for storing pots and pans, take a look!
Pot Racks
Instead of keeping these two items in kitchen cabinets as most people would do, we'd like to reserve this storage space for other cooking utensils. As for pots and pans, they will be hung on high using special racks.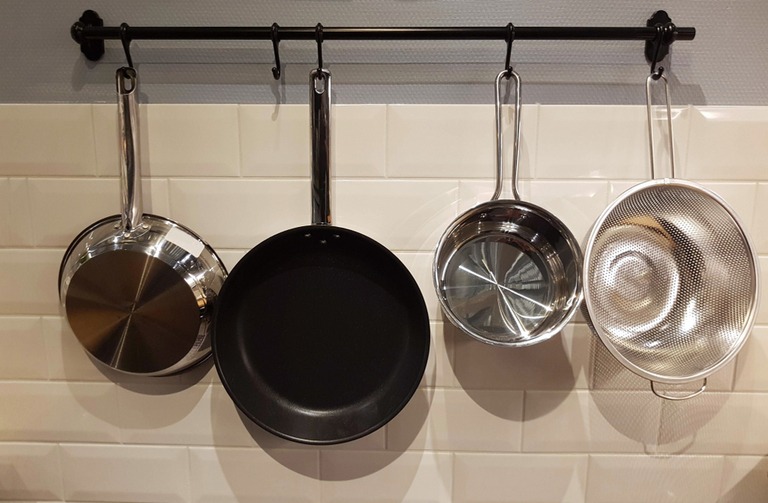 What do you think about this idea?
From our experience, this storage method helps keep pots and pans always dry, clean, and easy to access.
You can store all kinds of pots and pans no matter their shapes and sizes. This method works well even with those ultra-large ones that regular kitchen cabinets cannot store.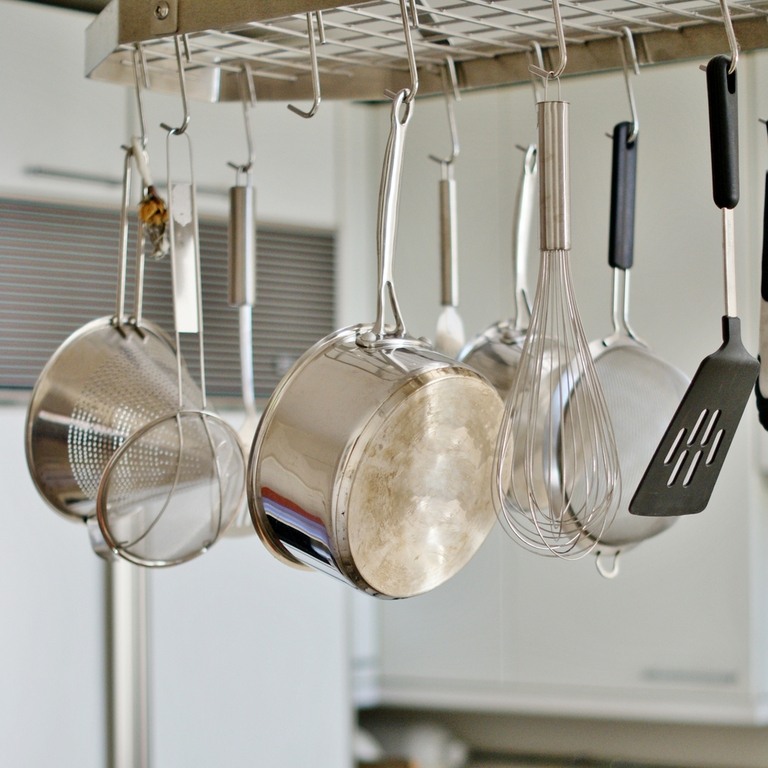 We also believe that those people who love optimizing their living space will surely love the idea because it helps take advantage of high, vertical space.
Pot racks are made of different materials, such as stainless steel, plastic, and wood with a variety of designs. So, you have got many options to consider depending on your needs, budget, and preferences.
Hanging Pots And Pans On The Wall
If your kitchen has some empty walls that aren't being used (like an empty alcove or a corner wall), then they will be the new perfect place for hanging your pots and pans on.
For easy access during cooking, we highly recommend you choose those walls near your stove.
In general, there are three styles of hanging these items on the wall: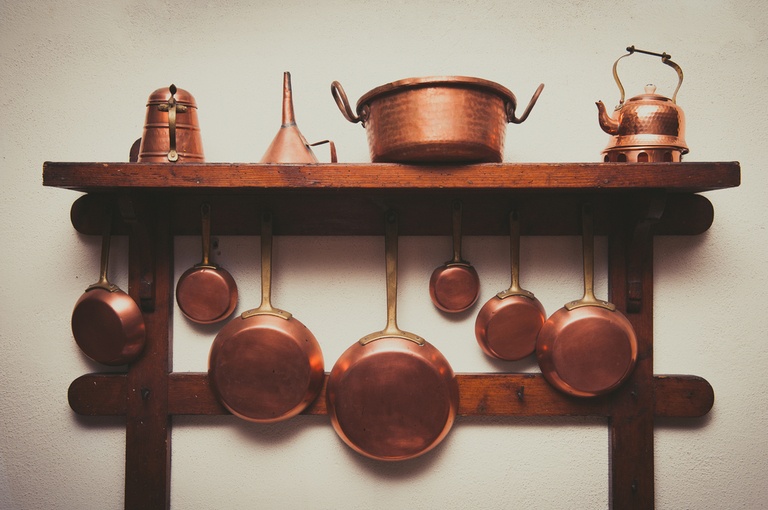 Style 1: A combo of hooks (for pots and pans) and shelves (to put on other cooking items, such as kettles, plates, bowls, etc.) like the picture above.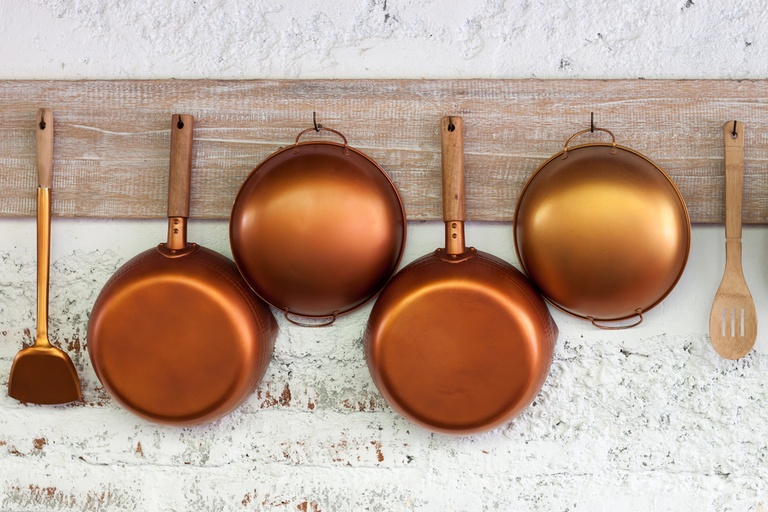 Style 2: Take advantage of one old nail wooden board or two. You just need to replace the old nails with new ones (repaint the wood board for a new look if you prefer) and here you go - a really large space for storing your pots and pans.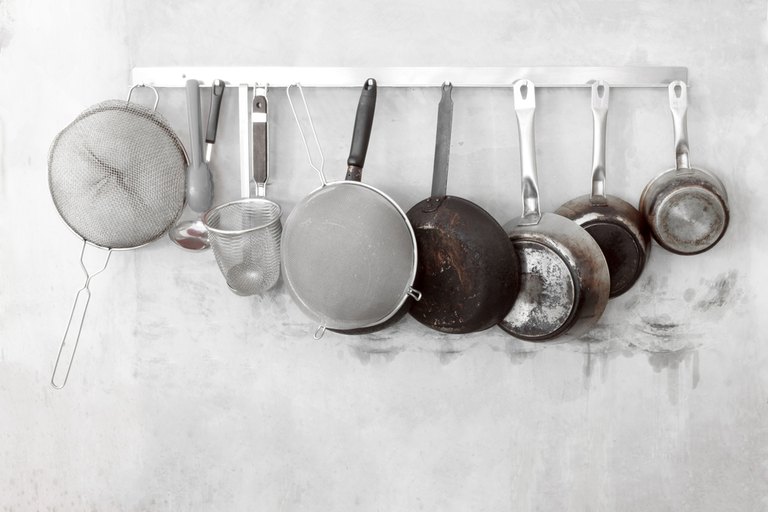 Style 3: A set of one extended, the round bar attached to the wall, and some hooks. In the market, it's easy to find these sets in different designs, materials, and price ranges.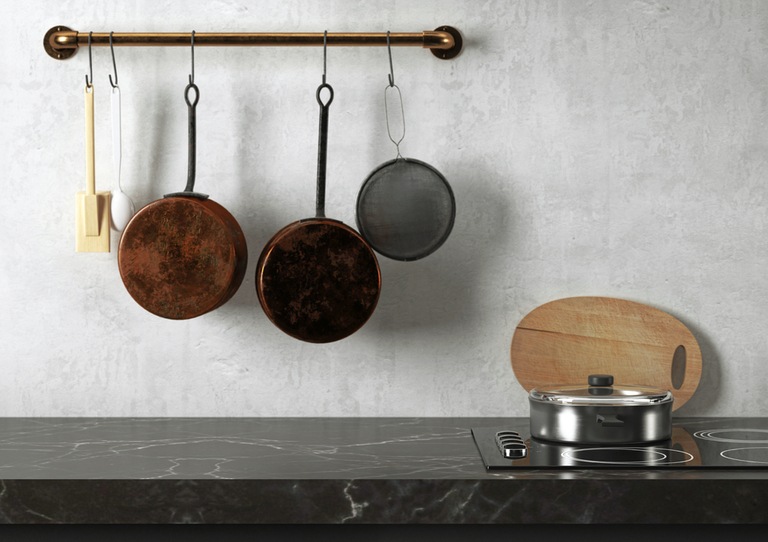 Use wall-mounted pot racks made from shiny copper to increase the aesthetics of your kitchen.
Hanging Them On The Ceiling
The ceiling space is a quite unique place to hang and arrange your pots and pans, don't you think?
The pot rack will be mounted right on the kitchen island, near the cooking area. When you need to use any pot and pan, it's very easy to find them.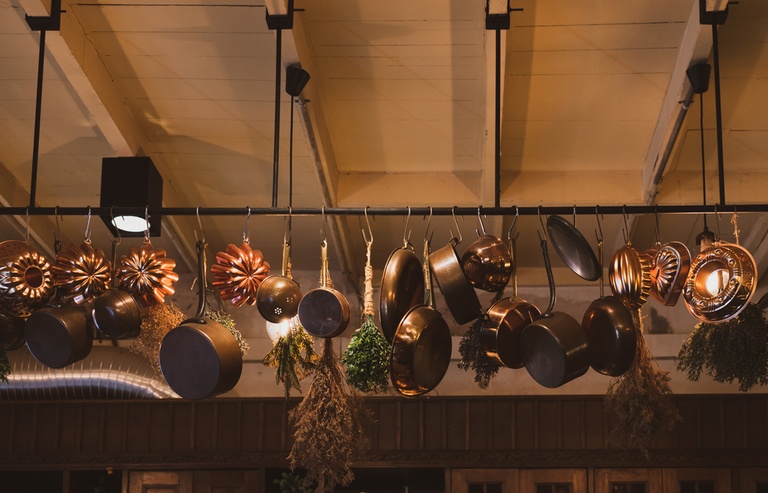 Some homeowners creatively reuse their old wooden ladder and transform it into a vintage pot rack – repaint the surface, mount it on the ceiling using hooks and chains, then attach some small S-shaped hangers to arrange the pots and pans.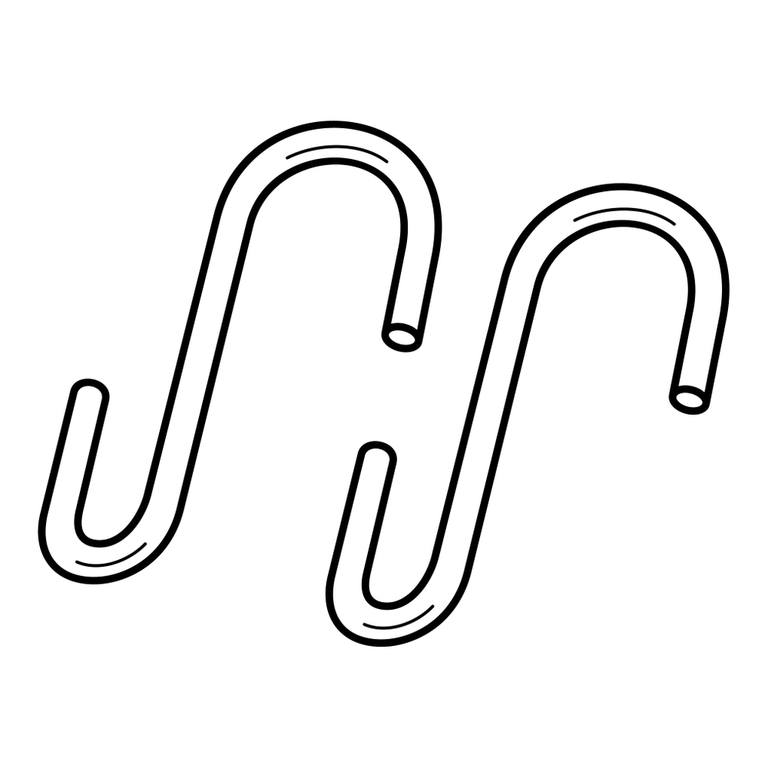 Optimize Your Empty Kitchen Cabinets
Some homeowners don't like to show up these items; they want their kitchen to look as neat and minimalist as possible.
In this case, let's optimize the space in your kitchen cabinets: sort your pots and pans in order from the largest (placed at the bottom) to the smallest (placed at the top). This will help you find them easier.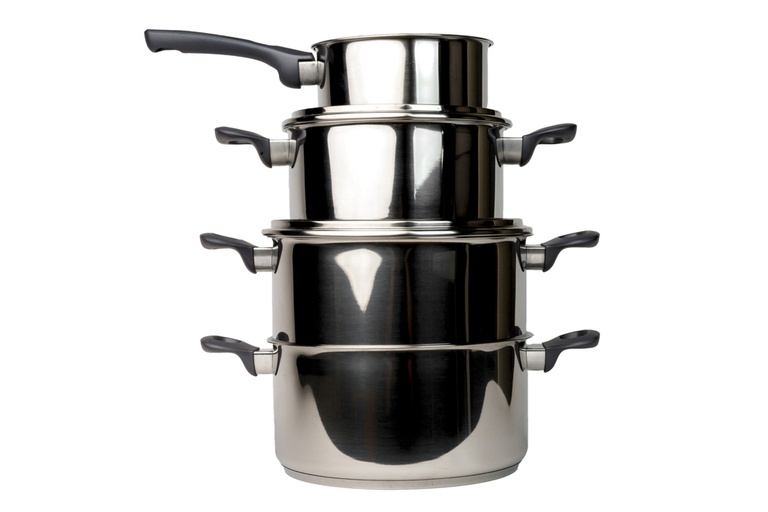 With large and deep kitchen cabinets, you can add some dividers for better organizing.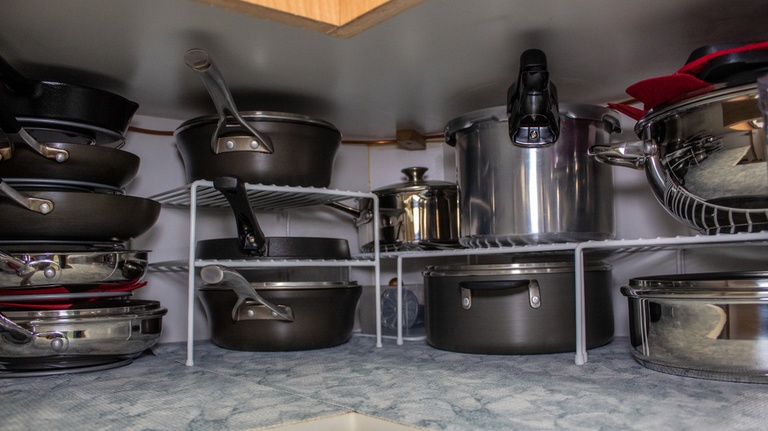 A dedicated rack for sorting pot and pan lids is a worthy investment.
This rack is commonly compact so, you can either place it in the kitchen cabinet where pots and pans are stored or on the cooktop.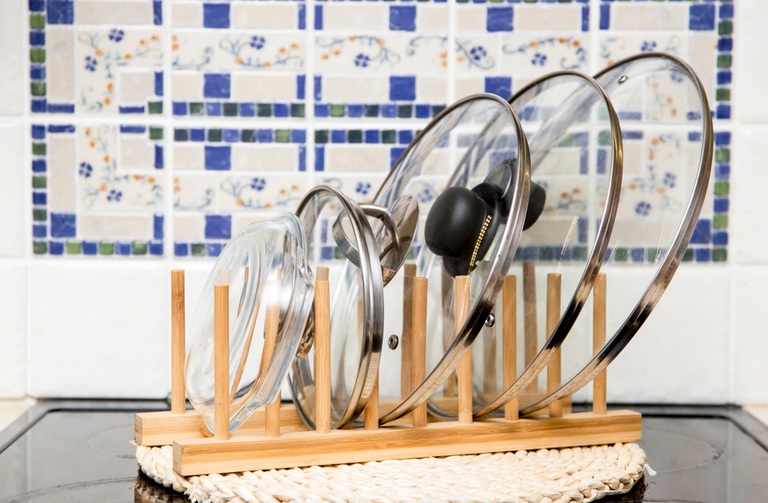 There are two types of rack for pot lids – horizontal designs (as above) and vertical designs (as below)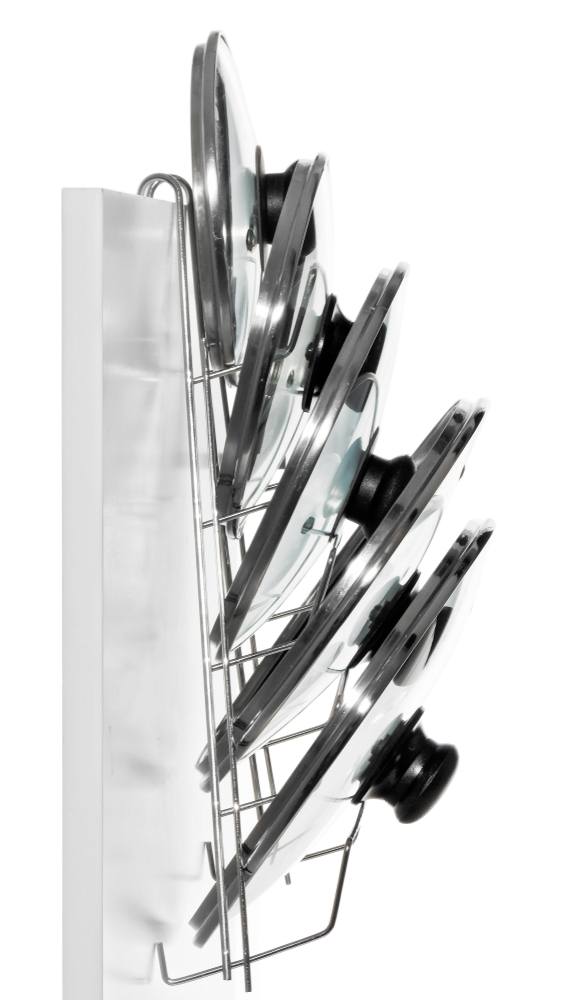 Another ideal storage place for pot lids in the back of your kitchen cabinet doors. These plastic hooks are easily found and priced reasonably plus there are various designs to choose from.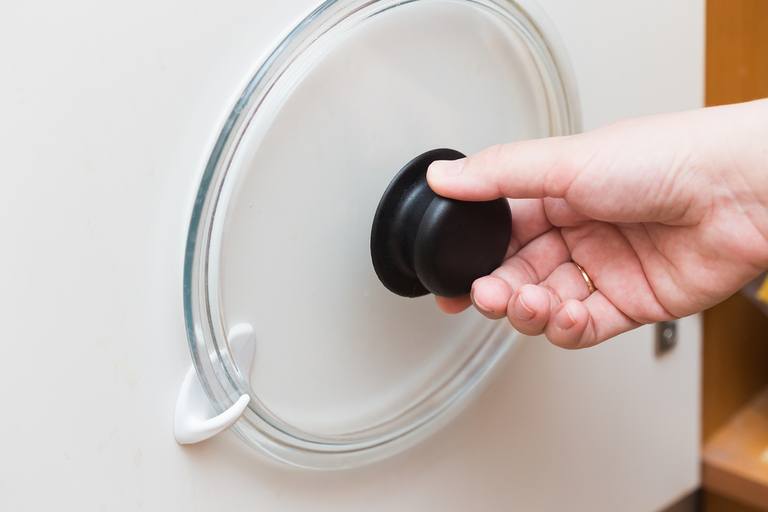 Kitchen Corner Storage
Most people leave the corner space of their L- or U-shaped kitchen cabinets vacated because they are hard to reach and the view is often restricted.
A great solution for this is installing corner shelves.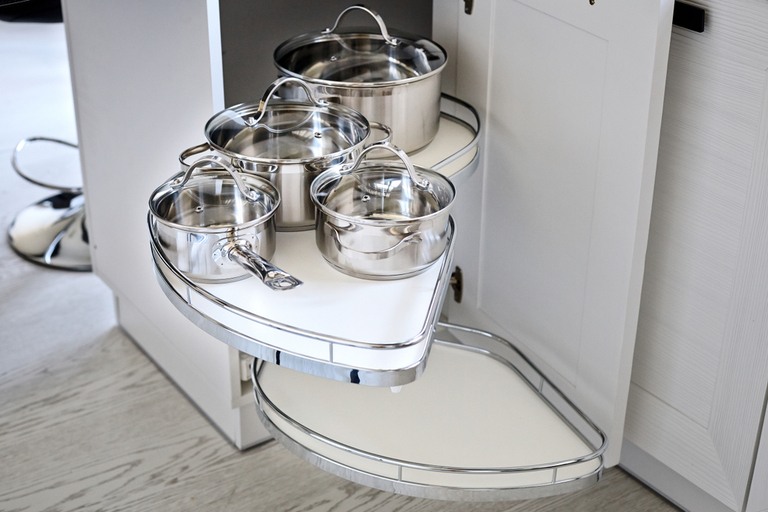 Conclusion
We hope that with the creative solutions for storing pots and pans listed above, you've got more ideas to re-organize these cooking items more efficiently and aesthetically.
Our team would like to hear from you more so, if you've any interesting ideas to share with us, please leave them in the comment section. Thanks for reading!