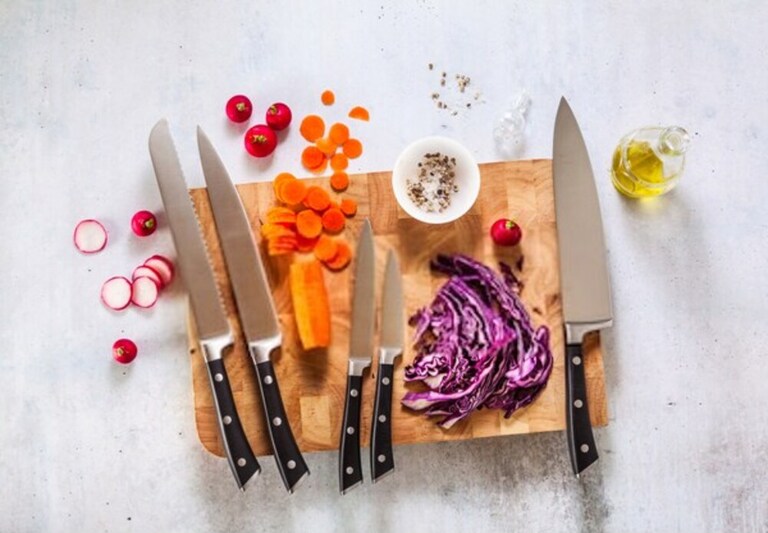 It's hard to choose the exact good knife for the first time without testing beforehand. Aside from determining the material, shape, and handles, brands do matter in your choice.
After collecting trusted expert's reviews, I've summarized a list of Best kitchen knife brands that you'll love.
Best Kitchen Knife Brands
J.A. HENCKELS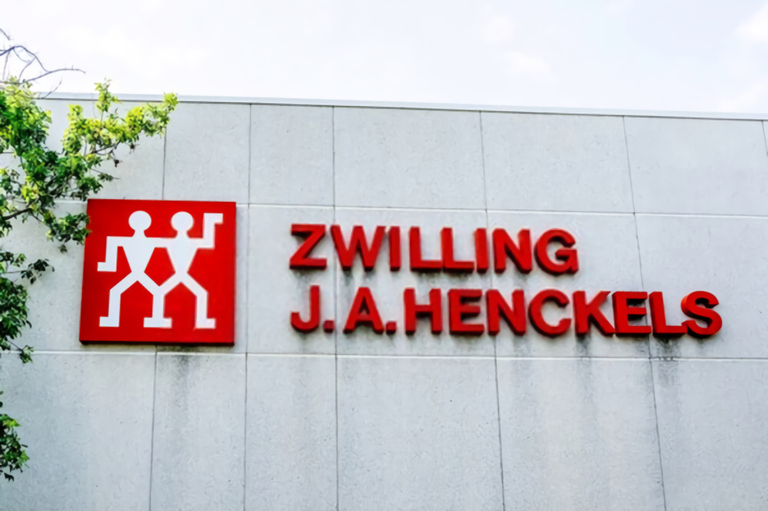 J.A. HENCKELS is one of the oldest cutlery manufacturers in the world that own four cutlery sub-brands, including ZWILLING, Bob Kramer, Miyabi, Henckels International.
J.A. HENCKELS or ZWILLING has expensive products for their high-standard qualities. However, no doubt if you might own the best, symbolic knife in the world.
Experts say ZWILLING has made the best kitchen knife so far that its top-notch quality surpasses customer expectations. TWIN Four Star II which is called the chef knife's revolution is a worthy investment for your kitchen.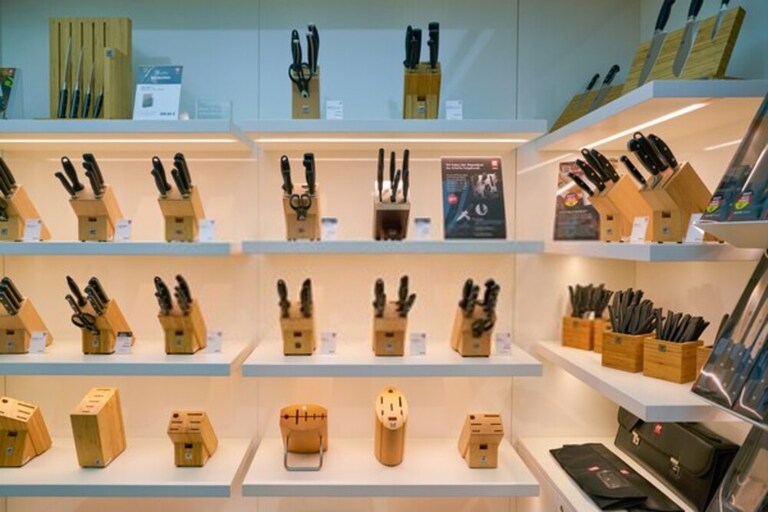 Kramer, a sub-brand of ZWILLING, has the finest high carbon steel knife that everyone should own. Although it costs $300, its excellent material and delicate German-style handle makes it worth buying. Try Bob Kramer Carbon Steel Chef Knife 8-inch.
If your budget is lower to afford a high-end knife, consider Miyabi or Henckels line. You can find Japan-Germany making technique knives with Miyabi Kaizen 8-Inch Chef's Knife or Henckels 30782-000 TWIN Signature Knife Block Set with 19 pieces.
Wusthof
Over 200 year-experience of producing cutlery, Wusthof treasures their fans as an inspiration to make the best knives. Wusthof is trusted by worldwide customers so you can easily buy one at any Macy's to Sur La Table stores.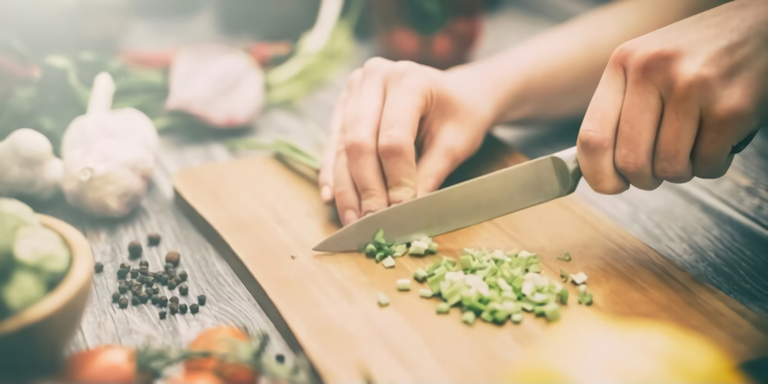 Wusthof has such a lot of knife series but you can separate two main types: forged and stamped knives. Wusthof forged knives are made from one piece of stainless steel and long strengthening processes.
CLASSIC IKON is the best line for novices to try on Wusthof knives.
I recommend a CLASSIC IKON 8-Inch Chef's Knife or a CLASSIC IKON 12-Piece Knife Block Set.
If you're looking for a high-end, laser-cut stamped knife, look for the Gourmet series. The Gourmet 18-Piece Block Set has everything you need, including Asian-style knives and 10-inch roast beef carvers.
Wusthof 7-Piece Professional Knife Set from the Pro series is a wallet-friendly choice for people with limited budgets. The quality is still good and its design is seamless.
Messermeister
Messermeister is another Germany cutlery-making brand that produces knives with the look just like a masterpiece of art. The knives are made from beautiful American Walnut Burl in handles and stainless alloy in blades.
You can find different knives to cook such as cheese and tomato knives, spear point knives, Santoku knives, fine steel, or carving forks.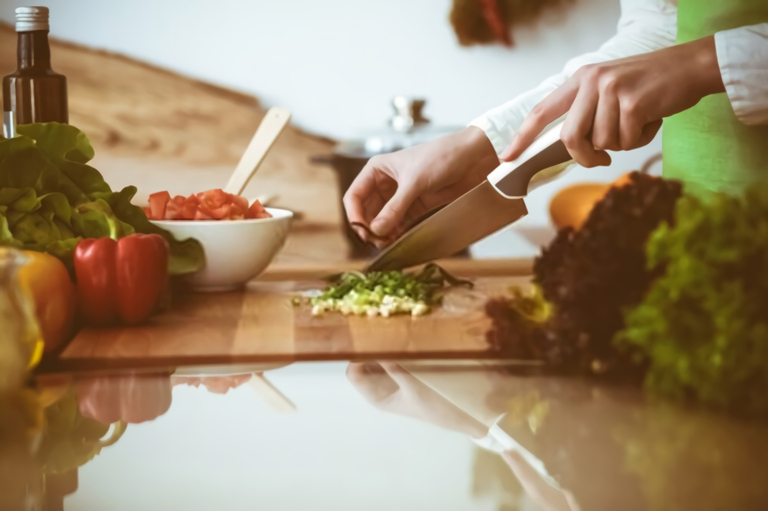 Messermeister San Moritz Elite Chef's 8-Inch Knife is an essential product that is made of high-carbon and stainless alloy for durability and easy re-sharpening.
Royale Elité 10-Piece Knife Block Set is a luxury, fine knife set if you're looking for sophisticated cooking tools. The price is not for everyone but it's a well-spent investment to leverage your cooking skill.
Messermeister also produces stylish knife luggage for chefs and professional cookers. Start with a chic 5-pocket Felt Knife Luggage then move to the multiple-cabinet 30-Pocket Chef's Bag.
Victorinox
Victorinox is a long-standing knives manufacturer and known for the army-originated knives. Many of their product lines become every man's handy multipurpose knife and tool kit to carry on outdoor activities while others are a compact tool kit even for women.
Although it's considered a high-end knife brand in this realm, that doesn't mean you can't find one or more affordable lines here.
For example, the Victorinox Fibrox Pro Chef's Knife.
Or the Victorinox Swiss Army Huntsman Knife with 15 different tools to use in any situation.
Mercer Culinary
Not only cutleries but Mercer Culinary also produces a wide range of kitchen tools to help you cook like a head chef.
From Japanese-craftsmanship knives, high-quality German carbon steel Renaissance knives to butcher knives, Mercer Culinary is always one of the best kitchen knife brands.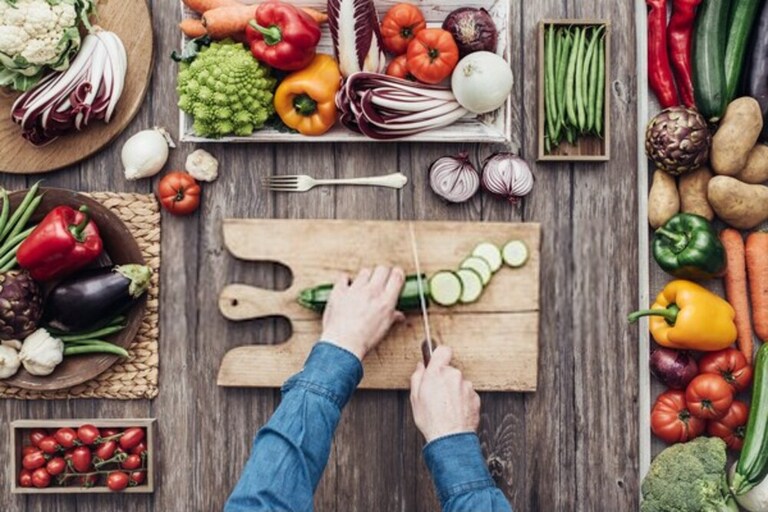 The fact that 90% of all culinary academies use Mercer Culinary products. Despite the top-notch quality, their price ranges are kept much lower than other knife brands.
There are many lines of their collection becoming bestsellers on the market, both offline and online.
If you want to boast a bit of your exquisite knife collection, go for the Mercer Culinary Genesis 6-Piece Forged Knife Block Set. You will have five German-steel knives come with a seamless glass block which prevents your fingers from self-cut.
For those who are ready for a multipurpose knife set, Mercer Culinary Millennia 8-Piece Knife Roll Set is a recommendation. The knives are made from Japanese high-carbon steel with heavy-duty construction, all set in convenient storage to carry away.
PAMPERED CHEF
The saying "You get what you pay for" isn't always right, especially in the case of the Pampered Chef knives. Backed by Warren Buffett's Berkshire Hathaway fund, it gives you much peace in mind to purchase kitchen tools, food products, and cookbooks at a budget-friendly price point.
The most popular and signature knife of Pampered Chef is the Pampered Chef 8-Inch Chef's Knife.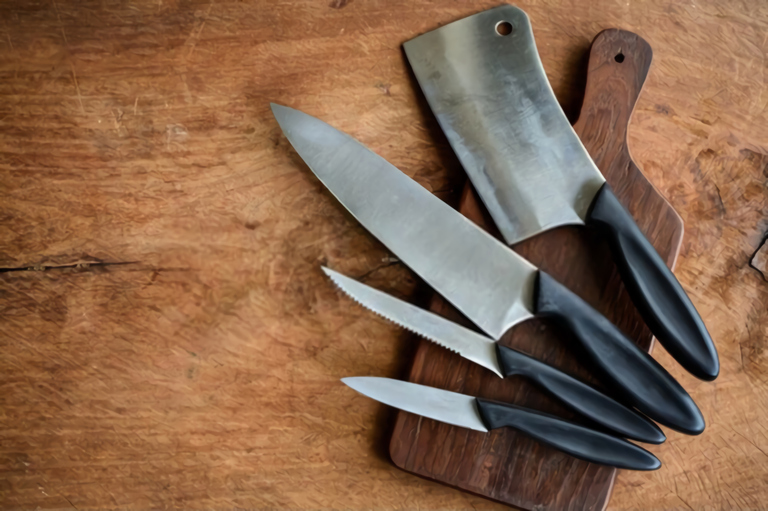 It's made from 1-piece heavyweight metal that allows you to cut and slice thick blocks of meat. With a lifetime guarantee, the premium German high-carbon steel is already good enough for precise cutting.
Or the Coated Knife Set gives you five different knives. If you just want something colorful, bright, and affordable to add to your kitchen aesthetics, consider this set.
GLOBAL
GLOBAL is the greatest ambassador of Japanese knives, creating thinner but harder knives that are used by the world's most famous chefs such as Anthony Bourdain, Michel Roux Jr, and Ludo Lefebvre.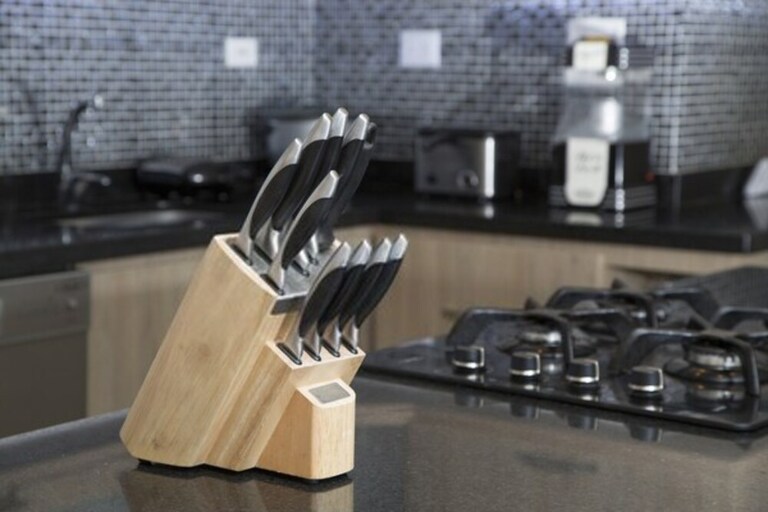 They have four main series come with unique features.
GLOBAL knives perfectly combine specialized ergonomic design, premium Japanese steel, and a much affordable price compared to high-end European brands.
Classic 8" Chef's Knife uses the finest stainless steel called CROMOVA 18 and features an iconic signature texture handle. It reduces hand fatigue and can be used for both left-handed and right-handed people.
Global Knife Set 20-Piece Bamboo Block is a complete award-winning product for chefs and home cookers. These ultra-hard knives are made from Cromova and stainless steel put through an ice-tempered making process.
With only $1000, you can own from boning knives, prep knives, Santoku knives to sharpening rod all set in a bamboo block.
MISEN
Aside from high-grade steel knives, Misen offers various sets of seamless and sleek cookware. All Misen products go direct-to-consumer from the manufacturer to bring the best, honest price for customers.
Misen Chef's Knife is a to-go-knife, a great combination of Western and Japanese style for all kitchens. Made with AICHI AUS-10 steel, this knife costs a half price compared to other competitors in the same range.

If you're in a hurry for good knives at a good price, Misen Essentials Knife Set is a considerable option to choose from. Within around $150-$300, you can own a combo of three or five essential knives for your daily use.
Because this is a young Kickstarter-based cookware brand, they offer some interesting policies to attract customers. After 60 days from your purchase placement, you can return it back with a refund if you're not satisfied.
A lifetime guarantee also replaces free knives for you if any issue happened.
Mac
Mac has claimed to have the sharpest knives in the world that are mentioned by editors of Buzzfeed, Wirecutter, and Epicurious.
All Mac knives are made in Japan, use exceptional Japanese-making techniques, and manufactured by professional Japanese craftsmanship.

The extraordinary quality of their products may surpass your expectation for a knife at this price range. The blades are made from Chrome Molybdenum Vanadium High-Carbon cutlery steel and the handles come in an ergonomic design.
Lots of Mac users say they don't want to go back to their Wusthofs, Globals, Shuns, or Henckels knives after experiencing these products.
Almost Mac knives are good at selling on the market. Mac 8-inch Professional Hollow Edge Knife is a typical example. It is versatile to cut, chop, or slice food with a comfortable handle to use every day.
Besides, it's still razor-sharp like the first day after many years of use.
How to choose a good kitchen knife for your needs?
Types
If you're beginners, this part is very important because learning different types of knives allow you to understand more about each's highlight features, benefits, and uses. Therefore, the choice-making process will be simpler.
Kitchen knives are currently divided into two main categories: forged or stamped.
Forged knives: Professional chefs own a lot of forged knives because of its superior quality although it's more expensive. Forged knives require skillful craftsmanship and specialized machines so it's well-balanced and durable.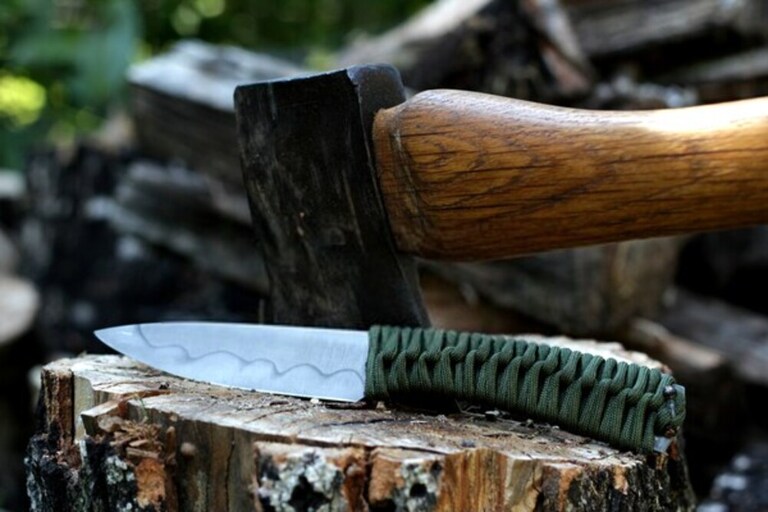 Stamped knives: This is a more affordable choice for a low budget. Stamped knives are lightweight with thinner blades, allowing use easier even novices.
Next, move to four main types of knives to use for your daily usage.
Chef's Knife: A Chef's knife, usually has an 8-inch length, is a versatile type that can handle most cooking tasks, like chop, cut, slice, mince, and dice. The price ranges are also vast to consider. It's nearly a must in any kitchen, from cooking enthusiasts to chefs.
For an exquisite razor-sharp knife, the Japanese brand is an ideal option to consider.
Paring Knife: A paring knife may be small, but it's necessary to peel fruits, devein shrimps, flute mushrooms, or other jobs to prepare prep meals. A 3 to 4-inch paring knife is ideal for delicate works.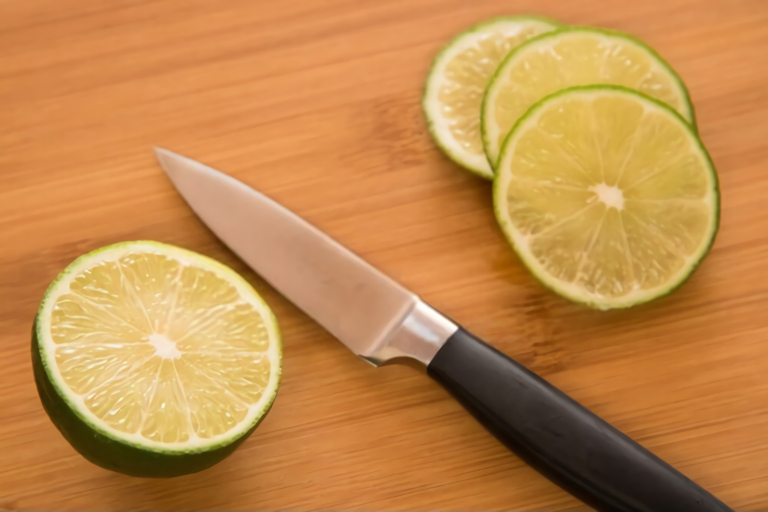 Bread/Serrated Knife: Many people ignore this knife and use a Chef's knife instead to cut bread. That's because they don't know how important a bread knife is - It cuts bread without smashing it. A high-quality 8-inch blade length is a good choice.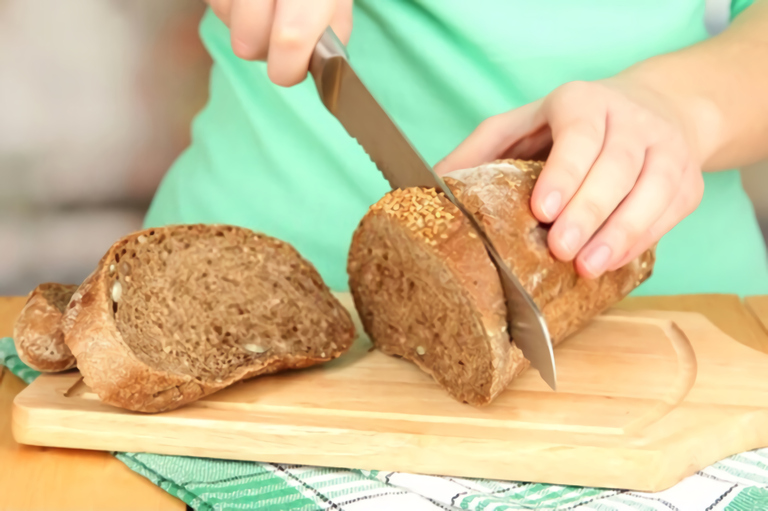 Bonus:
Sharpening steel: With nice sharpening steel, you can renew your lifelong knife without coming to the sharpening services. It can be 8, 10, or 12 inches and the price is generally affordable.
Blade materials
High-Carbon Stainless Steel: It's mostly found in high-end knives because of the well-balanced mix of corrosion resistance, sharpness, edge retention, and easy re-sharpening. Besides, high-carbon stainless steel knives look really catchy due to its stunning shine.
Stainless Steel: the biggest selling point of this material is zero maintenance and seamless looking. It's not as sharp as high-carbon stainless steel but more affordable.
Carbon Steel: compared to the stainless steel, this is easier to resharpen. However, it needs good maintenance to keep the quality.
Weight & balance
A good knife should have a balance between the blade and the handle weight, meanwhile, the choice of knife weight is a preference issue.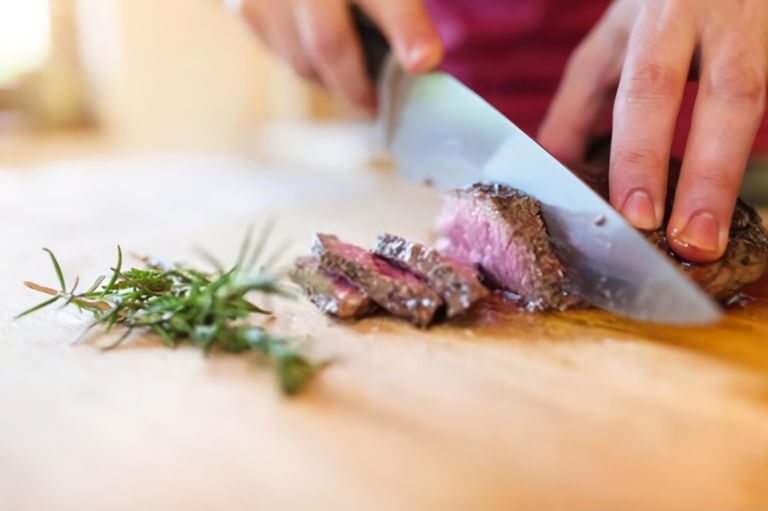 A heavy one can cut thick meat blocks better while the lighter model is less fatigue to hold, especially during heavy-duty cutting tasks. For beginners, arthritis people, or those who have a weak wrist, I suggest going for a light one.
Handle
The blades should be well-riveted to protect your hand placed in the handle. It also has to be ergonomically designed to grip without slipping.
Conclusion
You don't have to read hundreds of different topics to know what the best kitchen knife brands are to buy. With this precise, fully informative summary guide, I assure you that the purchase-making process will be much simpler.
That's all for now. Thanks for reading!